JIBC officially opens its Aboriginal Gathering Place in New Westminster
New multi-purpose space funded by the Ministry of Advanced Education will support Aboriginal students, staff and faculty, and enhance teaching, learning and exchange across JIBC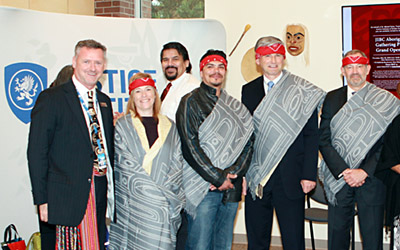 Dr. Michel Tarko, JIBC President and CEO; at the grand opening of the JIBC Aboriginal Gathering Place with blanketed ceremony witnesses Vicki Morrison, JIBC staff member; TJ McCallum, JIBC student in the Justice & Public Safety Career Preparatory Program for Aboriginal Learners; the Honourable Andrew Wilkinson, Minister of Advanced Education; and Robert Quartermain, member of JIBC's Board of Governors
With a traditional Aboriginal ceremony, witnessing and the sharing of food, Justice Institute of British Columbia (JIBC) celebrated the opening of its new Aboriginal Gathering Place at the New Westminster Campus on May 26, 2016.
The opening of the new facility brought together: JIBC students, staff and faculty; representatives from local First Nations; members of JIBC's Aboriginal Education Advisory Council; JIBC Elders-in-Residence; the Honourable Andrew Wilkinson, Minister of Advanced Education; and representatives from local government and JIBC partners and stakeholders from across Canada.
The new facility was funded by the Ministry of Advanced Education and is dedicated to teaching, learning and exchange in support of JIBC's Indigenization Plan. This space will support JIBC's Aboriginal students and will serve as a venue where all students, staff, faculty and the wider community can deepen their knowledge and appreciation of Aboriginal history and culture.
"JIBC has a unique mandate as a public post-secondary institution dedicated to providing justice and public safety education and training across the province," said the Honourable Andrew Wilkinson, Minister of Advanced Education. "The new Aboriginal Gathering Place will play a valuable role in supporting Aboriginal students as they pursue meaningful careers in the community."
Dr. Michel Tarko, JIBC President & CEO who is of Métis descent said, "As a student at UBC many years ago, it was comforting and beneficial to have the First Nations Longhouse on campus where Aboriginal students could support each other and participate in Aboriginal traditions on campus. Having personally experienced the incredible value from these kinds of spaces, it gives me great pleasure to be here today to participate in the formally open our own Aboriginal Gathering Place. I'm confident that services provided in this space will help our students connect and support each other as they pursue their education towards rewarding careers in public and community safety throughout the province."
Phillip Gladue, a JIBC Elder-in-Residence of Métis descent said, "It's very important that we have a space like this at JIBC, a beautiful place where everyone can gather and learn from each other and have meaningful dialogue. My hope is that it will be a safe space where we can build trust to build our future together."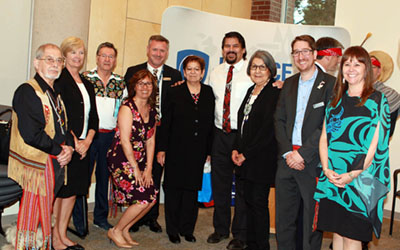 JIBC Elders-in-Residence, members of JIBC's Aboriginal Education Advisory Council, and JIBC staff and faculty were on hand to celebrate the opening of the Aboriginal Gathering Place
Over the years, fruitful dialogues with First Nations communities across B.C. have been instrumental in the creation of JIBC's Indigenization Plan, which outlines how JIBC aims to realize its commitment to fostering respect and understanding of Aboriginal cultures, traditions, languages and protocols in the work and learning environment at the Institute.
While this is the last Aboriginal Gathering Place to be constructed at a public post-secondary in British Columbia, it is the first to be constructed in B.C. after the historic release of the recommendations by the Truth and Reconciliation Commission (TRC). JIBC's Aboriginal Gathering Place will serve as a centre for contributing to safer and more just communities across Canada through implementing the TRC's calls to action.
In anticipation of the completion of the Aboriginal Gathering Place, various programs and initiatives have been launched in relation to JIBC's Indigenization activities. For example, an Aboriginal Medicine Garden has been planted beside the Aboriginal Gathering Place to grow medicinal plants. A project developed in partnership with the First Nations Health Authority (FNHA), the garden will be used for a series of workshops for JIBC and FNHA staff.
While the Aboriginal Gathering Place will be available for meetings and classes for all JIBC educational divisions and centres, a number of Aboriginal programs will be utilizing the dedicated space, including the Aboriginal Focusing-Oriented Therapy & Complex Trauma Certificate program, the Justice and Public Safety Career Preparatory Certificate Program for Aboriginal learners, and the Aboriginal Justice Workers course. Future Aboriginal Education Advisory Council meetings will be held in the gathering place, and students, staff and faculty will have many opportunities to meet with JIBC's Elders-in-Residence in the adjoining Elder's Lounge.
"We continue to reach out to local First Nations communities to gain their input about how they would like to use and be represented in the Aboriginal Gathering Place, which is a physical manifestation of our commitment to serving Aboriginal students and communities," said Dr. Jeffrey Schiffer, JIBC's Program Director in the Office of Indigenization who is of Métis descent. "There will be many opportunities for everyone on campus to learn and engage, and we're excited about what we are working on to foster greater appreciation of Aboriginal culture and history in the spirit of truth and reconciliation."
About Justice Institute of British Columbia
Justice Institute of British Columbia (JIBC) is Canada's leading public safety educator with a mission to develop dynamic justice and public safety professionals through its exceptional applied education, training and research. JIBC offers internationally recognized education that leads to certificates, diplomas, bachelor's degrees and graduate certificates; exceptional continuing education for work and career-related learning and development; and customized contract training to government agencies and private organizations worldwide. Our education provides professionals with the knowledge, skills, and abilities to excel at every stage of their career contributing to safer communities and a more just society.
Last updated April 5, 2017