JIBC paramedic instructor recognized with international award
Bill Bailey named 2017 Instructor of the Year by International Trauma Life Support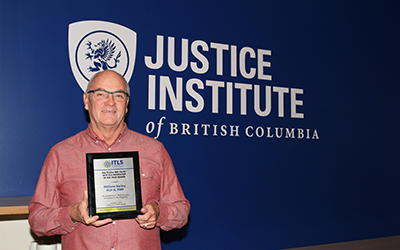 A longtime paramedicine instructor at the Justice Institute of British Columbia (JIBC) has been honoured by International Trauma Life Support (ITLS) for excellence in teaching and innovation in ITLS programs.
Bill Bailey was recently recognized as the 2017 Instructor of the Year by ITLS, a global, not-for-profit organization dedicated to preventing death and disability from trauma through education and emergency trauma care. The ITLS course is taught through 90 chapters in 40 countries around the world. For paramedics in BC, the ITLS program is taught as part of ongoing professional development following Primary Care Paramedic training.
"It's an honour," said Bailey, who teaches the ITLS course for JIBC as well as for BC Ambulance Service. "There's thousands of instructors throughout the world. I've worked with a lot of these people, I've trained in many of the countries, and these are pretty phenomenal people I work with."
Originally trained as a nurse, Bailey has worked as a paramedic since the late 1970s, based out of Chilliwack, BC. He has been a paramedicine instructor at JIBC since 1991 and affiliated with ITLS since 1993, the first such instructor at JIBC. He currently serves as the provincial coordinator for ITLS as well as the coordinator of the JIBC chapter of ITLS.
The award recognizes in particular Bailey's efforts to tailor the ITLS course to JIBC's numerous contract clients, incorporating clients' protocols, procedures and policies. That can range from setting training scenarios for corrections nurses in prison cells, to ensuring cultural differences are followed in Abu Dhabi.
"For more than 25 years, Bill Bailey has been a leader among instructors at the JIBC Paramedic Academy, and has shown his commitment to excellence in ITLS training since its introduction to the Institute," said Kathy Harms, Director of JIBC's Health Sciences Division. "He has exemplified JIBC's commitment to fostering excellence in programming and delivery though his work with our diverse client groups, and this ITLS award is further evidence of that."
About Justice Institute of British Columbia
Justice Institute of British Columbia (JIBC) is Canada's leading public safety educator with a mission to develop dynamic justice and public safety professionals through its exceptional applied education, training and research. JIBC offers internationally recognized education that leads to certificates, diplomas, bachelor's degrees and graduate certificates; exceptional continuing education for work and career-related learning and development; and customized contract training to government agencies and private organizations worldwide. Our education provides professionals with the knowledge, skills, and abilities to excel at every stage of their career contributing to safer communities and a more just society.
Last updated April 25, 2018