JIBC Police Academy reaches training milestone
Public Safety Minister Mike Morris on hand to congratulate municipal police recruits graduating from the 150th Police Academy class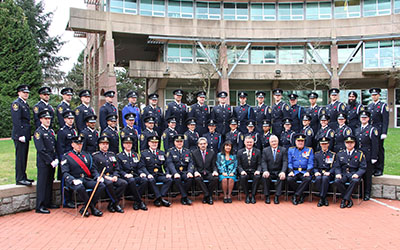 JIBC Police Academy's 150th class of recruits.
The Justice Institute of British Columbia (JIBC) celebrated a milestone November 4 with the graduation of the 150th class in the Police Academy's history. The 36 graduates included 11 women and 25 men from the Delta, Vancouver, New Westminster, Nelson and West Vancouver municipal police departments as well as Transit Police. Hired as police officers before attending recruit training at JIBC, they will now go on to serve their respective communities across BC. Since JIBC was founded in 1978, the Police Academy has trained approximately 3,570 recruits.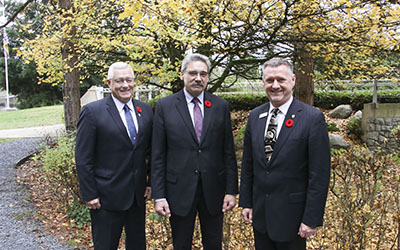 From left: Jim McGregor, JIBC Board Chair , Mike Morris, Minister of Public Safety and Solicitor General and Dr. Michel Tarko, JIBC President and CEO.
The Honourable Mike Morris, BC Minister of Public Safety and Solicitor General, was on hand to offer his congratulations to the new recruits.
"Policing is no ordinary career. It takes guts and requires you to be calm and confident in unpredictable and sometimes life-threatening situations," said Minister Morris. "On behalf of the Province of British Columbia, I want to personally thank each of the 36 graduates for choosing a career in law enforcement and congratulate the Justice Institute of British Columbia on reaching this important milestone with its 150th Police Academy class."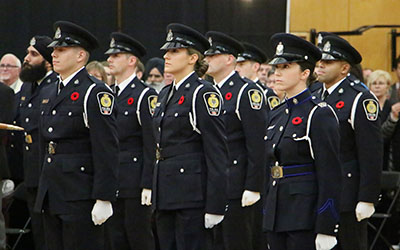 "We are immensely proud of our Police Academy graduates who now leave us to serve the wider community across the province, dedicated to ensuring the safety and security of the public," said Dr. Michel Tarko, JIBC President and CEO. "To these new recruits, always remember why you chose to serve and your desire to make a difference."
Leading up to graduation, the recruits will have completed nine months of training under experienced current and former police officers. The first block of training covers everything from legal studies and the social sciences to physical fitness and police skills such as driver training, firearms, and investigation and patrol techniques. The use of police simulations and scenarios help prepare recruits for real-life situations they may encounter.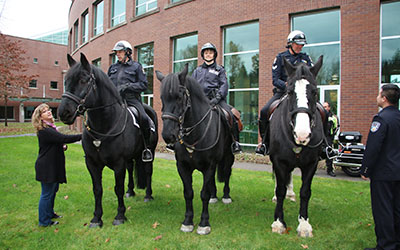 Members of the Vancouver Police Department Mounted Squad joined in the festivities for the graduation of JIBC Police Academy's 150th Class.
The second block of several weeks takes place out in the field under the guidance and supervision of a field trainer. The recruits then return to the JIBC campus for the final block of eight weeks, which builds on the field experience to prepare recruits to function independently upon graduation.
"As they graduate today, they enter a family of police officers around the world, dedicated to keeping communities safe," said Steve Schnitzer, Director of the JIBC Police Academy. "The badges they receive are a reminder of the training they have received and the immense obligation of maintaining public trust while performing a difficult community service."
About Justice Institute of British Columbia
Justice Institute of British Columbia (JIBC) is Canada's leading public safety educator with a mission to develop dynamic justice and public safety professionals through its exceptional applied education, training and research. JIBC offers internationally recognized education that leads to certificates, diplomas, bachelor's degrees and graduate certificates; exceptional continuing education for work and career-related learning and development; and customized contract training to government agencies and private organizations worldwide. Our education provides professionals with the knowledge, skills, and abilities to excel at every stage of their career contributing to safer communities and a more just society.
Last updated May 24, 2017