JIBC to present honorary degree to former lieutenant-governor
Provincial court judge Steven Point to be recognized at JIBC's Spring Convocation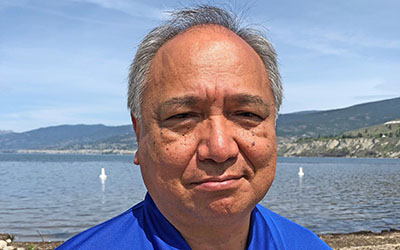 Justice Institute of British Columbia (JIBC) will present a Doctor of Laws degree, honoris causa, to the Honourable Steven Point, a provincial court judge and former BC lieutenant-governor, in recognition of his dedication to public service and his leadership in the Indigenous community.
"As we mark JIBC's 40th anniversary this year, it is fitting that we also celebrate the accomplishments of a groundbreaking British Columbian," said Dr. Michel Tarko, JIBC President and CEO. "Steven Point has exemplified exceptional commitment to serving the people of this province in the field of law and in legal and Indigenous education. His leadership in the Indigenous community was perhaps best demonstrated during his term as lieutenant-governor when he strove to serve as a role model for Indigenous youth, encouraging them to succeed in education while still retaining their cultural identity."
Between 2007 and 2012, Point served as British Columbia's 28th lieutenant-governor and was the first Indigenous person appointed to represent the Queen in the province. Prior to that, he served as Chief of the Skowkale First Nation and as Tribal Chair of the Stó:lō Nation and Grand Chief of Stó:lō Tribal Council.
He was called to the BC Bar in 1986 and practised criminal law and native law. He served as an immigration adjudicator and provincial court judge before becoming Chief Commissioner of the British Columbia Treaty Commission in 2005. He was reappointed as a provincial court judge in 2014.
Point is a recipient of The Justice Institute of British Columbia Foundation's Joseph H. Cohen Award and has served on the JIBC Aboriginal Education Advisory Council. His other previous honours include: the Order of British Columbia (2007), the Queen Elizabeth II Golden Jubilee (2002) and Diamond Jubilee (2012) medals, Knight of the Most Venerable Order of the Hospital of St. John of Jerusalem (2008), and the Order of Chilliwack (2016). He has received Honorary Doctorates of Law from the University of the Fraser Valley (2000), University of Victoria (2012), University of British Columbia (2013) and Capilano University (2017).
The 2018 Spring Convocation ceremony will be held at the New Westminster campus on June 14 and will recognize approximately 330 graduates who have completed certificates, diplomas and degrees at JIBC.
About Justice Institute of British Columbia
Justice Institute of British Columbia (JIBC) is Canada's leading public safety educator with a mission to develop dynamic justice and public safety professionals through its exceptional applied education, training and research. JIBC offers internationally recognized education that leads to certificates, diplomas, bachelor's degrees and graduate certificates; exceptional continuing education for work and career-related learning and development; and customized contract training to government agencies and private organizations worldwide. Our education provides professionals with the knowledge, skills, and abilities to excel at every stage of their career contributing to safer communities and a more just society.
Last updated November 7, 2018