JIBC to present honorary degree to law enforcement leader
RCMP Assistant Commissioner Bill Fordy to be recognized at JIBC's Spring Convocation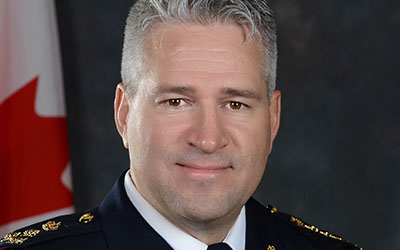 Justice Institute of British Columbia (JIBC) will present a Doctor of Laws degree, honoris causa, to Assistant Commissioner Bill Fordy, a 28-year veteran of the Royal Canadian Mounted Police (RCMP), in recognition of his community service and contributions to justice and public safety in Canada.
"It is our great pleasure to recognize with an honorary degree Assistant Commissioner Fordy's dedication to safer communities and a more just society," said Dr. Michel Tarko, JIBC President and CEO. "His continued leadership in policing has helped change investigative and interviewing techniques to assist in solving numerous serious crimes, and brought closure to so many families of victims. He has also championed the use of integrated policing teams and the provision of support services under one roof, to better assist victims and prevent further crimes. His commitment to public service and track record for identifying problems and developing solutions makes him an inspiration to future leaders educated at JIBC."
A/Comm. Fordy has been appointed the new Deputy Chief of Police for the Niagara Regional Police Service, effective June 27. Founded in 1971, it is the oldest regional police service in Ontario and serves 12 municipalities totalling about 430,000 residents and an estimated 15 million visitors annually. The police service patrols one of the largest geographical regions in the province, with more than 1,000 sworn and civilian members.
In his current role, A/Comm. Fordy oversees the RCMP's Lower Mainland District and is responsible for all the RCMP detachments in the Lower Mainland and five integrated units – the Integrated Homicide Investigation Team (IHIT), LMD Emergency Response Team, Integrated Collision Analysis and Reconstruction Service, LMD Integrated Forensic Identification Service and the Police Dog Service ­– which operate in conjunction with municipal police departments in Abbotsford, Delta, New Westminster, Port Moody and West Vancouver.
Prior to this, A/Comm. Fordy served as Chief Superintendent, the Officer in Charge (OIC) of the Surrey RCMP detachment, the largest in Canada with more than 800 police officers and almost 300 support staff.
Among his many accomplishments, A/Comm. Fordy has been a leader and expert on interviewing techniques and major case management. While involved in a series of murder investigations early in his career, he saw challenges in law enforcement's ability to secure confessions from suspects. Taking the initiative, he met with experts to develop solutions, creating the concept of a regional interview team in 1999, helping establish such teams and to create standardized training across Canada.
As a result of his work in the field of police interviewing, hundreds of high profile investigations have been successfully resolved and important case law has been created.
While serving as OIC for Surrey RCMP, A/Comm. Fordy played a key leadership role in the creation of Sophie's Place Child Advocacy Centre, a specialized, child-friendly centre to coordinate child abuse investigations and develop integrated supports for child victims of physical and sexual abuse. He also led and supported the integration of the Ministry of Justice's Community-Based Victims Services into the Surrey RCMP Domestic Violence Unit and Police-Based Victim Services. This innovation and integration of services has helped in the prevention, education and intervention around violence against women.
He has been recognized with an appointment into the Order of Merit of Police Forces by the Governor General of Canada, the Queen Elizabeth II Diamond Jubilee Medal, and the RCMP E Division Commanding Officers Commendation. The latter was for his outstanding service in the investigation of the disappearances of a large number of women from the Metro Vancouver area. As the main interviewer of the suspect, A/Comm. Fordy helped develop strategies to gather evidence that eventually led to the conviction of Robert Pickton for the murders.
Apart from policing, A/Comm. Fordy was also active in the community, serving as a volunteer coach and sounding board for the executive members of the Semiahmoo Minor Hockey Association for a decade. In addition, he is a three-time Ironman finisher in the full-distance triathlon event.
The 2017 Spring Convocation ceremony, to be held on June 8, will recognize approximately 270 graduates who have completed certificates, diplomas and degrees at JIBC, with more than 700 graduands, family and friends in attendance at the New Westminster campus.

About Justice Institute of British Columbia
Justice Institute of British Columbia (JIBC) is Canada's leading public safety educator with a mission to develop dynamic justice and public safety professionals through its exceptional applied education, training and research. JIBC offers internationally recognized education that leads to certificates, diplomas, bachelor's degrees and graduate certificates; exceptional continuing education for work and career-related learning and development; and customized contract training to government agencies and private organizations worldwide. Our education provides professionals with the knowledge, skills, and abilities to excel at every stage of their career contributing to safer communities and a more just society.
Last updated June 21, 2017