JIBC President and CEO reappointed for a second term
Dr. Michel Tarko focused on advancing JIBC's strategic goals and the Institute's public safety education, training and applied research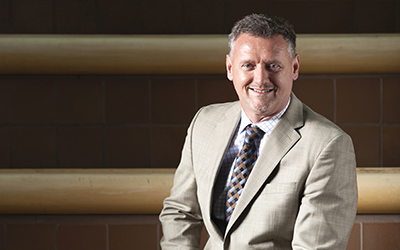 The Justice Institute of British Columbia's (JIBC) Board of Governors is pleased to announce that Dr. Michel Tarko has accepted a second five-year term as JIBC's president and CEO.
"The Board is very pleased with Michel's leadership and management over the past five years," said Jim McGregor, Outgoing Chair of JIBC's Board of Governors (as of July 31, 2017), and Incoming Board Chair Rob Kroeker (as of Aug. 1, 2017). "During this time the reputation and brand equity of JIBC as Canada's leading public safety educator continues to expand across BC, Canada, and beyond."
Significant accomplishments of Dr. Tarko's first term have included his leading the development and continued implementation of the JIBC 2015-2020 Strategic Plan, and related pan-Institute plans including, the 2015-2020 Indigenization Plan, 2016-2020 Communications & Marketing Plan, and the 2016-2020 Education Plan, said McGregor. The second term will extend his tenure to July 2022.
"This news will be welcomed and embraced by many of Michel's colleagues at JIBC as well as colleagues at the BC Association of Institutes and Universities (BCAIU) and Colleges & Institutes Canada (CICan)."
Dr. Tarko views a second term as an opportunity to continue with ongoing initiatives emerging from the Truth and Reconciliation Commission's Call to Action in the context of Justice and Public Safety. He aims to further support the advancement of the justice and public safety professions that JIBC serves through applied training, education and research opportunities which inform curriculum and leading practice for first responders and community leaders.
"I recognize there is more we can do to support our vision of 'safer communities and a more just society' and we will continue to advocate for new resources from both public and private stakeholders in our efforts to achieve this vision," said Dr. Tarko.
"I am proud of JIBC's record of success and achievement, which results from the dedication of our employees who stand behind our vision and mission, at the three-year mark of our five-year strategic plan. The grand opening of our Aboriginal Gathering Place in May of 2016 was one of many highlights during my first term. I am keenly interested in supporting the expansion of international education and contract training, both on-shore and off-shore, for student and employee exchanges. I also look forward to the expansion of our graduate programs in Intelligence Analysis to encompass the growing issue of financial cybercrimes, as well as in public safety leadership."
As President and CEO, Dr. Tarko has led the development of the new JIBC 2015-2020 Strategic Plan with the JIBC Board of Governors, and developed partnerships between JIBC and other public post-secondary educational institutions in BC, across Canada and internationally, creating pathways for student and faculty exchanges, and applied research initiatives in the fields of public and community safety. He also continues to build relationships and partnerships with business and industry where JIBC can be a solution to priority issues related to community and public safety training, education and applied research.
Dr. Tarko served as a member and vice-chair of the Board of Directors, Post-Secondary Employers Association (PSEA) from 2014-2016, and since 2016 has served as Vice-Chair of the Board of Directors for Colleges and Institutes Canada, representing the British Columbia Association of Institutes and Universities (BCAIU).
He earned his Doctor of Philosophy degree (PhD) in Education (Curriculum & Instruction) from the University of British Columbia and holds a Bachelor of Arts degree in Criminology from the University of Manitoba, as well as a Diploma in Psychiatric Nursing from the Manitoba School for Psychiatric Nursing.
About Justice Institute of British Columbia
Justice Institute of British Columbia (JIBC) is Canada's leading public safety educator with a mission to develop dynamic justice and public safety professionals through its exceptional applied education, training and research. JIBC offers internationally recognized education that leads to certificates, diplomas, bachelor's degrees and graduate certificates; exceptional continuing education for work and career-related learning and development; and customized contract training to government agencies and private organizations worldwide. Our education provides professionals with the knowledge, skills, and abilities to excel at every stage of their career contributing to safer communities and a more just society.
Last updated September 8, 2017