JIBC program manager honoured by Paramedic Association of Canada
Steven Mills named inaugural recipient of Award of Excellence for Education and Training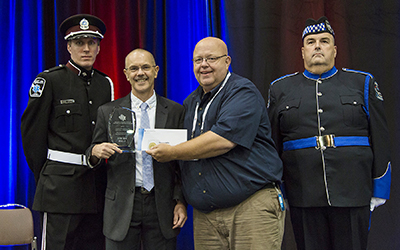 Steven Mills, second from left, receives the Paramedic Association of Canada's inaugural Award of Excellence for Education and Training in Quebec City. (Photo courtesy of Paramedic Association of Canada)
A program manager with Justice Institute of British Columbia (JIBC) has been honoured by the Paramedic Association of Canada for his ongoing excellence and contributions to paramedic training.
Steven Mills is the inaugural recipient of the association's Award of Excellence for Education and Training. He received the honour at the association's Paramedics Across Canada Expo held in Quebec City in August.
Mills served 16 years as a primary care paramedic (PCP) with British Columbia Ambulance Service in southeastern BC before joining JIBC's Paramedic Academy as a faculty member in 2006. He has since served as a regional training coordinator, then program manager for the PCP program, a role which oversees the delivery of the PCP program across the province.
As PCP Program Manager, Mills led a successful redesign of the program, aligning it with national standards, responding to stakeholder feedback, and changing course sequencing and course delivery methods to significantly enhance students' learning experiences and outcomes. During this time, Mills was also instrumental in the development of the practice education portfolio, strengthening relationships with relevant organizations and building hospital and ambulance placement capacity for both PCP and Advanced Care Paramedic (ACP) students.
Mills helped create opportunities for paramedic students to educate themselves in or near their home communities which in turn increased the number of health care providers in rural areas around the province. His work on national and international education projects, including with longstanding clients in Hong Kong and Singapore, has strengthened the profile of Canadian paramedics internationally for JIBC and in British Columbia.
Currently, Mills serves as program manager for the Advanced Care Paramedic program. He has begun restructuring the program to help create a new vision and fresh perspective, enhancing active learning opportunities with more realistic types of scenarios, which helps reduce the transition between the classroom and practice environment.
"Steven cares passionately about education, both his own as he continues to pursue further education, and particularly the educational process and experience of our students, and his faculty and colleagues," said Kathy Harms, Director of JIBC's Health Sciences Division. "His proven track record of success over the last 27 years when he first started as a paramedic to now as an advocate of change, and a leader within paramedic education here in BC, shows no sign of slowing down."
About Justice Institute of British Columbia
Justice Institute of British Columbia (JIBC) is Canada's leading public safety educator with a mission to develop dynamic justice and public safety professionals through its exceptional applied education, training and research. JIBC offers internationally recognized education that leads to certificates, diplomas, bachelor's degrees and graduate certificates; exceptional continuing education for work and career-related learning and development; and customized contract training to government agencies and private organizations worldwide. Our education provides professionals with the knowledge, skills, and abilities to excel at every stage of their career contributing to safer communities and a more just society.
Last updated January 31, 2018