JIBC ranked among Top 50 Canadian colleges and institutes for applied research
One of three BC colleges and institutes to make this year's list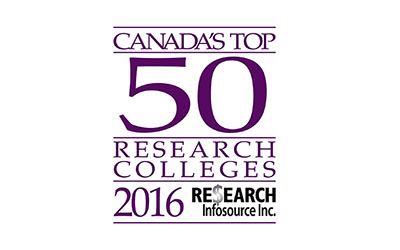 The Justice Institute of British Columbia (JIBC) has been recognized as one of the top Canadian post-secondary institutions for research.
JIBC ranked third in BC and 30th nationally in the Top 50 Research Colleges list produced by Research Infosource Inc.
In fiscal 2015, JIBC brought in $2.2 million in research income, a 23 per cent increase from the year before. The money funded research in the areas of public safety and security.
"We are happy to contribute to JIBC's mission of creating 'safer communities and a more just society' through our continued efforts in applied research and innovation," said Dr. Greg Anderson, Dean of JIBC's Office of Applied Research and Graduate Studies.
"We take a practical problem-solving approach to exploit specific opportunities or to address persistent challenges identified by stakeholders in public safety and security," Anderson said. "By doing so we are able to provide practical innovations leading to both improved business practices and supports for our public safety and security personnel and/or the communities which they serve."
Projects funded in the reporting period included the Aboriginal Disaster Resiliency Project (ADRP), funded by the Department of Indigenous and Northern Affairs Canada. It aimed to create a culturally relevant online resource to help Aboriginal communities across Canada anticipate and minimize the damage caused by disasters.
Other BC post-secondary institutions to make the list were B.C. Institute of Technology and Camosun College. Together, the three BC institutions posted a total of $10.8 million in research income, a jump of 3.7 per cent from the previous year.
For the full list visit: Top 50 Research Colleges 2016.
About Justice Institute of British Columbia
Justice Institute of British Columbia (JIBC) is Canada's leading public safety educator with a mission to develop dynamic justice and public safety professionals through its exceptional applied education, training and research. JIBC offers internationally recognized education that leads to certificates, diplomas, bachelor's degrees and graduate certificates; exceptional continuing education for work and career-related learning and development; and customized contract training to government agencies and private organizations worldwide. Our education provides professionals with the knowledge, skills, and abilities to excel at every stage of their career contributing to safer communities and a more just society.
Last updated March 3, 2017