JIBC ranked among the top Canadian colleges and institutes for applied research
JIBC one of four B.C. colleges and institutes on the annual list of Canada's Top 50 Research Colleges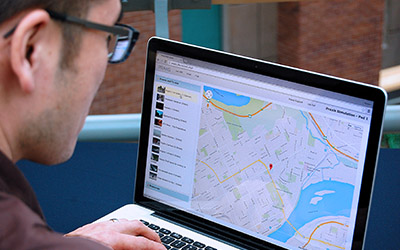 Justice Institute of British Columbia (JIBC) has been recognized as one of Canada's top post-secondary institutions for research.
JIBC ranked 28th nationally and 2nd in BC on this year's list of Canada's Top 50 Research Colleges compiled by Research Infosource Inc.
In fiscal 2014, JIBC attracted nearly $1.8 million in research income that funded a wide-range of applied research in the areas of public safety and security. Aligned with the Institute's mandate and strategic goals, these projects were either provincial or national in scope.
"Given our unique focus and mandate as a public post-secondary institution, JIBC is well-positioned to provide applied research that helps enhance public safety in communities in B.C. and across Canada," said Dr. Greg Anderson, Dean of JIBC's Office of Applied Research and Graduate Studies. "Our focus on collaboration and building effective partnerships has been one of the keys to our success in delivering leading-edge research that's providing new insights, innovation and best practices in public safety."
Projects funded in the reporting period included the Aboriginal Disaster Resiliency Project (ADRP), which received funding from Aboriginal Affairs and Northern Development Canada. The aim of the project was to create a culturally relevant online resource to help Aboriginal communities across Canada anticipate and minimize the damage caused by disasters. The initial stage of the project was completed last spring with the launch of the ADRP online resource in May 2015.
With funding from Western Economic Diversification and industry partners, JIBC also launched a project to develop a platform for business and industry to deliver training simulation exercises online. The project aims to expand use of JIBC's Praxis technology, which is currently used by JIBC students in various courses to provide an immersive, interactive, first-person perspective of unfolding events and scenarios to help students apply the theories and lessons they've learned in class.
JIBC's Centre for Applied Research also launched the Critical Infrastructure Assessment Project last year. Employing the expertise in JIBC's Emergency Management Division, JIBC began work with Emergency Management BC and the Canadian Safety and Security Program to develop a process and tool to help local authorities address the impact of potential hazards on their critical assets as part of their emergency management planning process.
JIBC was one of four BC colleges and institutes on the Top 50 Research Colleges list this year. BCIT, Camosun College, and the College of New Caledonia were the other B.C. post-secondary institutions on this year's list that was released October 22. Visit the Research Infosource website for the full list.
About Justice Institute of British Columbia
Justice Institute of British Columbia (JIBC) is Canada's leading public safety educator with a mission to develop dynamic justice and public safety professionals through its exceptional applied education, training and research. JIBC offers internationally recognized education that leads to certificates, diplomas, bachelor's degrees and graduate certificates; exceptional continuing education for work and career-related learning and development; and customized contract training to government agencies and private organizations worldwide. Our education provides professionals with the knowledge, skills, and abilities to excel at every stage of their career contributing to safer communities and a more just society.
Last updated June 12, 2019