JIBC to recognize firefighting leader with honorary degree
Township of Langley fire chief to be honoured at JIBC's Winter Convocation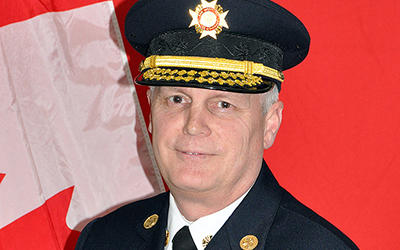 Justice Institute of British Columbia (JIBC) will present a Doctor of Laws degree, honoris causa, to Stephen Gamble, a 38-year firefighter veteran currently serving as fire chief for the Township of Langley, in recognition of his leadership and contributions to public safety.
"It is our privilege to recognize Mr. Gamble's longstanding commitment to the safety of our communities with this honorary degree," said Dr. Michel Tarko, JIBC President and CEO. "From his start as a volunteer firefighter to leader of the Canadian Association of Fire Chiefs, he has demonstrated dedication to public service and an unwavering desire to keep the public safe. He is the epitome of the leadership we aim to inspire in our students at JIBC."
Mr. Gamble entered the fire service in 1978 as a volunteer firefighter with the City of Port Coquitlam where he was hired as a full-time career firefighter in 1980. He was promoted to Assistant Fire Chief of Operations and Emergency Preparedness Coordinator in 1996, Acting Fire Chief for the department in 2001, and the full time Fire Chief/Emergency Coordinator for the City of Port Coquitlam in 2003. He became Township of Langley Fire Chief in 2011.
Mr. Gamble has over 12 years of experience as an adjunct instructor with the Justice Institute of British Columbia, and holds certifications including a certificate in Municipal Management from Capilano University, a bachelor's degree in justice and public leadership with Simon Fraser University, and a fellowship designation with the Institute of Fire Engineers.
In 2012, he became the first BC fire chief in 20 years to be elected president of the Canadian Association of Fire Chiefs (CAFC), only the fourth fire chief from British Columbia to hold the position in the organization's century-long history. He served in that role until 2014 and in 2016 Mr. Gamble received the distinction of CAFC Full-time Fire Chief of the Year award. Mr. Gamble generously directed the proceeds of his award to The JIBC Foundation's Jon Baillie Memorial Endowment Fund.
Mr. Gamble also served as the president of the Fire Chiefs' Association of British Columbia from 2007 to 2011.
The 2017 Winter Convocation ceremony, which will recognize more than 375 graduates who have completed certificates, diplomas and degrees at JIBC, will be held Feb. 9 at the New Westminster Campus.
About Justice Institute of British Columbia
Justice Institute of British Columbia (JIBC) is Canada's leading public safety educator with a mission to develop dynamic justice and public safety professionals through its exceptional applied education, training and research. JIBC offers internationally recognized education that leads to certificates, diplomas, bachelor's degrees and graduate certificates; exceptional continuing education for work and career-related learning and development; and customized contract training to government agencies and private organizations worldwide. Our education provides professionals with the knowledge, skills, and abilities to excel at every stage of their career contributing to safer communities and a more just society.
Last updated February 16, 2017