JIBC to recognize medical leader, educator and health care advocate with honorary degree
Dr. Mark Schonfeld to be recognized at JIBC's Spring Convocation in June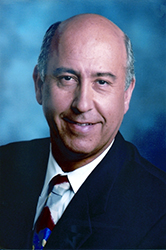 Justice Institute of British Columbia (JIBC) will present a Doctor of Laws degree, honoris causa, to Dr. Mark Schonfeld during the Spring Convocation to be held on June 11, 2015 at the New Westminster Campus.
"Through his medical practice and leadership, Dr. Schonfeld has contributed to the health and wellbeing of so many in this province, and across the country," said Dr. Michel Tarko, JIBC President and CEO. "It is with great respect that we honour his many contributions to the medical profession and to the community at large."
Dr. Schonfeld practiced family medicine for 22 years and was a very active health care advocate for much of his career. In addition to his general practice, he served as Head of Family Practice at BC Children's Hospital, and Medical Director of the Discharge Planning Unit at Vancouver General Hospital.
As an advocate, he held a number of key positions in the BC Medical Association (now Doctors of BC) serving as a board member, director of professional relations, president, and then CEO for 14 years prior to his retirement in 2011. During his tenure as BCMA CEO, Dr. Schonfeld helped strengthen the organization to become one of Canada's leading professional organizations and achieved a high level of member satisfaction with 95% of eligible doctors in the province choosing to be members of the voluntary organization.
He contributed to the advancement of the medical profession nationally serving as a board member of the Canadian Medical Association; chair of the CMA Provincial CEOs Forum from 2002 to 2005; chair of the CMA Health Information Technology Committee (2003-2011); and co-chaired the Ministry of Health Physicians Services Committee.
He also served as chair of the Board of Governors of the Hamber Foundation, a member of The JIBC Foundation Board of Directors (2003 – 2006), and a member of the JIBC Board of Governors (2006-2012).
He continues his work as a physician, educator, advocate and community leader. He serves as visiting staff at Vancouver General Hospital; is a Clinical Assistant Professor at the UBC Faculty of Medicine; Board Member of Pacific Blue Cross, MD Financial Holdings, and the Vancouver Board of Trade; Member of the UBC Faculty of Medicine's Admissions Selection Committee, and the Sauder School of Business EMBA Healthcare Advisory Board.
At the Convocation Ceremony, in addition to recognizing Dr. Schonfeld, President Tarko and representatives from the JIBC Board of Governors will recognize more than 360 graduates that have completed certificates, diplomas and degrees at JIBC.
The ceremony will be held in the gymnasium at the New Westminster Campus beginning at 1:30 p.m.
About Justice Institute of British Columbia
Last updated January 12, 2016