JIBC recognized with Open Education Award for Excellence
Receives award for project with Universidad de Guadalajara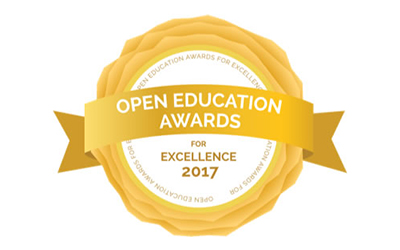 The Open Education Consortium (OEC) has recognized the Justice Institute of British Columbia (JIBC) for its creation of a faculty development program in collaboration with the Universidad de Guadalajara (UdeG) in Mexico.
The OEC honoured Dr. Tannis Morgan, Director of JIBC's Centre for Teaching, Learning & Innovation (CTLI), Barb Kidd, Dean of JIBC's School of Health, Community & Social Justice, UdeG's Itzcóatl Tonatiuh Bravo Padilla, and The Agora team with a 2017 Open Education Award for Excellence. The award, for Open Faculty Development Program under the category of Open Educational Resources, was for its project titled, The Agora: An open faculty development program in student centred and mobile learning.
"We are thrilled to receive the honour of this award, which recognizes the work between our two institutions to develop a program that would result in a long-term change in teaching and learning," said Morgan.
"The program drew on JIBC's strengths in using technology to enhance student access to post-secondary education," she said. "The international collaboration was particularly rewarding as we discovered two very different educational institutions from different countries and cultures share many similar challenges when it comes to faculty development."
The project was developed by JIBC in collaboration with UdeG, a large public university comprised of 15 campuses and more than 100,000 students. The goal was for faculty to confidently integrate student-centred strategies and activities using mobile technologies into their own courses to enhance learning outcomes. More than 400 UdeG professors completed the program and a formal research study is underway to evaluate the effectiveness of the program in transforming teaching and learning.
The Open Education Awards for Excellence recognize distinctive open educational resources, projects and initiatives, as well as exemplary leaders in open education worldwide. Open educational resources and projects are produced in a variety of languages and developed by institutions and organizations committed to increasing access to high quality education for everyone.
About Justice Institute of British Columbia
Justice Institute of British Columbia (JIBC) is Canada's leading public safety educator with a mission to develop dynamic justice and public safety professionals through its exceptional applied education, training and research. JIBC offers internationally recognized education that leads to certificates, diplomas, bachelor's degrees and graduate certificates; exceptional continuing education for work and career-related learning and development; and customized contract training to government agencies and private organizations worldwide. Our education provides professionals with the knowledge, skills, and abilities to excel at every stage of their career contributing to safer communities and a more just society.
About the Open Education Awards for Excellence
The Open Education Awards for Excellence provide annual recognition to outstanding contributions in the Open Education Consortium community. These awards recognize distinctive open education sites, technological innovations, notable open courses, and exemplary leaders in Open Education worldwide. http://www.oeconsortium.org/projects/open-education-award…
About the Open Education Consortium
The Open Education Consortium is a global network of educational institutions, individuals and organizations that support an approach to education based on openness, including collaboration, innovation, collective development and use of open educational materials. The Open Education Consortium is a non-profit, social benefit organization registered in the United States and operating worldwide. http://www.oeconsortium.org/
Last updated August 30, 2017