JIBC recognizes faculty and staff excellence
Annual JIBC Awards of Excellence presented at New Westminster campus
Justice Institute of British Columbia (JIBC) celebrated service and teaching excellence at the 17th annual JIBC Awards of Excellence ceremony held at its New Westminster campus today.
The event, which was webcast live to JIBC staff at its satellite campuses, saw awards being presented by JIBC President and CEO Dr. Michel Tarko as well as Colleen Vaughan, Vice-President Academic, and Kayoko Takeuchi, Vice-President, Finance and Operations.
"Every year, one of my favourite tasks is to recognize the exceptional achievements and dedication of each of our award recipients," said President Tarko. "They reflect the work and commitment of staff and faculty from across the Institute who contribute to the success of our students and by extension, their efforts in keeping communities safe."
Award recipients were honoured in the following categories:
President's Award
Melanie Meyers, Senior Instructional Designer, Centre for Teaching, Learning & Innovation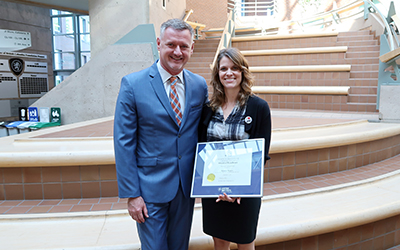 Melanie Meyers has worked at JIBC for nine years, the last six years in the Centre for Teaching, Learning & Innovation (CTLI) where she has made a significant contribution to advancing JIBC's vision of safer communities and a just society through her role as a Senior Instructional Designer for CTLI.
Melanie has led a number of key and award winning projects that have shifted JIBC's approach to innovative programming in Justice and Public Safety. These include the development of ABC of AD, JIBC's first Wordpress micro-learning course; the development of online courses in the Road Safety at Work program, JIBC's first use of LearnDash, to make workplace training more accessible and mobile; and more recently, the development of the Fentanyl Safety for First Responders training and information site. The fentanyl site is a good example of a highly visible and valued resource that truly does help keep our communities safe.
She takes a creative approach to designing learning for JIBC students who represent a range of demographics and abilities. She consistently juggles complex projects, often in the role of both project manager and instructional designer, and has been involved in almost every one of the eight E-learning projects for which JIBC has won an award, which is a demonstration of her consistent attention to quality and service.
Melanie is passionate about the quality of work which JIBC produces. She is respected across the organization and has developed a reputation, both internally and externally, as a creative leader in instructional design and complex e-learning projects. This has led to clients specifically requesting Melanie for projects, and she has responded by mentoring and coaching other instructional designers in CTLI in order to help JIBC develop more capacity to support innovative programming and e-learning.
Service Excellence Award
Marjory Jardine, Librarian - Reference & Instruction, JIBC Library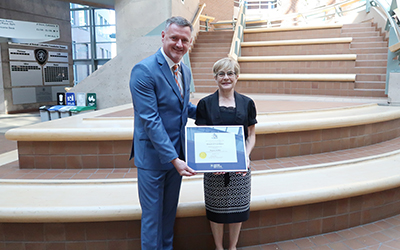 Marjory Jardine is a committed and passionate champion for student learning, working tirelessly to provide library research skills sessions to every JIBC student. Marjory provides classroom instruction to students in certificate and degree programs, either face-to-face or through online webinars, last year reaching a record 1,295 students across Canada.
Student academic success is Marjory's goal. She provides excellent reference service to students, no matter how complex the question, or how long it takes. In addition to providing instruction to students, she continually updates the Library's Research Skills Tutorial, which is now part of the Liberal Studies Research Methods course, counting towards students' participation mark. Marjory provides online virtual reference via the AskAway service, reaching postsecondary students throughout the province. She also coordinates the academic boot camp webinar for Primary Care Paramedic students from around the province and has offered to be a mentor for students completing their research capstone projects.
Instructional Excellence Award
Dr. Jessica Motherwell, faculty member, Justice & Public Safety Division
When Dr. Jessica Motherwell arrived at JIBC a few years ago, she soon showed her dedication and willingness to try new teaching strategies based on sound learning principles. When Jessica realized her Law Enforcement Studies Diploma (LESD) students were primarily young and recently graduated from high school, she developed a program using iPads which enabled students to create cartoons to express their ideas to support learning objectives, an approach that created much excitement in her classes.
Jessica is able to incorporate a blended model of face-to-face learning with online learning to bring classes together that cannot physically meet. She believes in experiential learning and encourages global citizenship while demonstrating and providing opportunities for them to get involved, such as inviting New Westminster secondary students to participate in an activity where her LESD students could practise their leadership skills. She also had her students participate in slacklining (a form of tightrope walking) on the JIBC lawn so they could pinpoint various aspects of the learning process while trying something new. Jessica has consistently stepped up to provide workshops and presentations, as well as coached and mentored other faculty, to share her teaching practices and to demonstrate various educational technologies.
Excellence in Applied Research Award
Adam Vaughan, Research Project Manager, Centre for Applied Research & Graduate Studies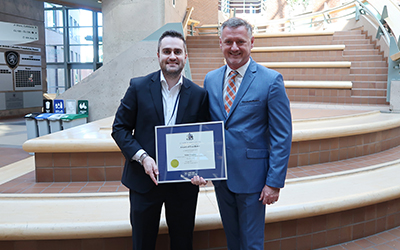 Adam Vaughan has been involved in many projects and proposals over the past four years, starting with the Simulation Training and Exercise Collaboratory Project (SIMTEC).
Adam has been an advocate for research in mental health of first responders, helping revise the resilience course that supports all professions represented at JIBC, and serving as Co-Principle Investigator on a Centre for Safety and Security proposal to evaluate the implementation of the course into all public safety professions, in uniformed and non-uniformed personnel. This course has garnered much attention recently, and may well be used in New Zealand, Australia, the US, and Canada, creating international interest and providing an opportunity to promote JIBC at events and help in brand awareness.
Adam has been working in teams at JIBC in research, and has been instrumental in providing data analysis help and advice across several projects. He has authored a paper for SIMTEC, and co-authored a paper on resilience. He has also presented at international conferences representing JIBC and JIBC research.
Program of Excellence Award
Driver Education Centre's Road Safety at Work Program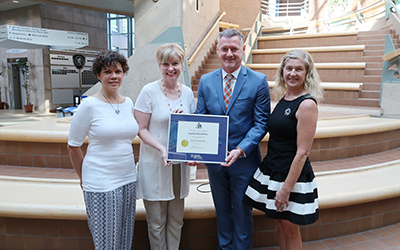 Road Safety at Work is an Occupational Road Safety initiative funded by WorkSafeBC and has been managed by JIBC since 2013. This initiative is in response to the startling fact that work-related crashes are the leading cause of traumatic workplace fatalities in British Columbia. Its mission to reduce work-related motor vehicle crashes, deaths and injuries is being tackled through three programs that have been created to improve worker driver safety: Fleet Safety, Care Around Roadside Workers, and Winter Driving Safety.
Each program is supported by a dedicated website providing free access to information and resources. A number of innovative resources and tools have been created including five online courses developed through collaboration involving WorkSafeBC, JIBC's Driver Education Centre and Centre for Teaching, Learning, and Innovation. It is a good example of how a government agency collaborates with JIBC for both our expertise and our innovation.
The success of the courses have led to the model now being considered by other areas in JIBC as a valid example of micro learning, demonstrating JIBC's ability to innovate its program models to better meet the needs of an adult, working population. In addition to the online resources, the three programs support annual campaigns: Road Safety at Work Week, Cone Zone, and Shift into Winter. Road Safety at Work is now recognized across British Columbia and Canada as a leading resource for occupational road safety, winter driving safety and driving safely around road side workers.
Friend/Associate of JIBC Award
Fire Rescue International Training Association (FRITA)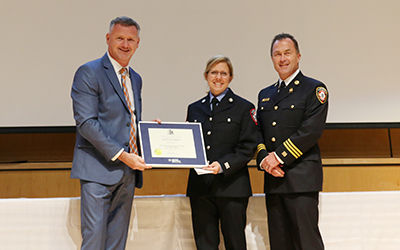 For the past nine years, the Fire Rescue International Training Association (FRITA) has partnered with JIBC's Fire & Safety Division to provide a culturally rich and unique opportunity for students and graduates of the Fire Fighting Technologies Certificate program through the One World Scholarship established by the Irving K. Barber British Columbia Scholarship Society.
FRITA has taken JIBC students for volunteer service and learning experiences in El Salvador, Panama, and other Central American countries. During the deployment, FRITA volunteers supervise the students and coordinate a busy schedule of language lessons, physical fitness training, fire hall visits, and training activities with the local fire service. The students are also required to develop and deliver at least one training session to the local fire service. FRITA ensures this is an applied learning and training experience for our students and an opportunity for personal and professional growth.
Service Awards
In addition to the Awards of Excellence, longstanding service was also celebrated. A total of 33 employees received service pins for 5, 10 and 15 years of service. Four employees reached the 20-year mark, and six have completed 25 years of service. One employee, Barbara Hunter from the Health Sciences Division, was recognized for reaching her 30th anniversary with JIBC.
About Justice Institute of British Columbia
Justice Institute of British Columbia (JIBC) is Canada's leading public safety educator with a mission to develop dynamic justice and public safety professionals through its exceptional applied education, training and research. JIBC offers internationally recognized education that leads to certificates, diplomas, bachelor's degrees and graduate certificates; exceptional continuing education for work and career-related learning and development; and customized contract training to government agencies and private organizations worldwide. Our education provides professionals with the knowledge, skills, and abilities to excel at every stage of their career contributing to safer communities and a more just society.
Last updated November 7, 2017