JIBC recognizes service excellence of staff and support of partners
Annual JIBC Awards of Excellence presented at the New Westminster Campus
The commitment to excellence and the exceptional contributions of Justice Institute of British Columbia (JIBC) staff, instructors and partners were recognized today at JIBC's 15th annual Awards of Excellence ceremony.
Held at the New Westminster Campus, the awards were presented by JIBC President and CEO Dr. Michel Tarko at a special ceremony, which was webcast to the Institute's other campuses throughout the province.
This year, awards were presented to more than 40 people in seven different categories. Recipients in the following categories were honoured:
President's Award
Steve McCartney, Coordinator, Law Enforcement Studies Diploma Program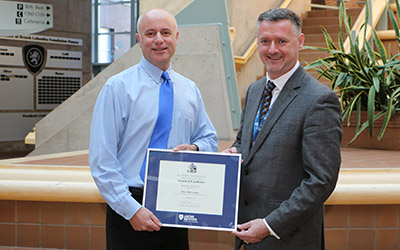 Steve McCartney first came to JIBC as a police recruit instructor in 2008. During his 28 years as a police officer, Steve held various positions with the Vancouver Police Department, and displayed a particular strength in conducting complex investigations into serious crimes. When he retired from the VPD in 2012, he became Coordinator of JIBC's Law Enforcement Studies Diploma program.
Steve is highly respected by his peers and his students and is a valued member of JIBC's Justice and Public Safety Division. Steve's council is often sought in student matters and his experience in policing and teaching is invaluable. He has recently completed writing an open learning textbook on police ethics that has been accepted by other post-secondary institutions for use in their police foundations academic programming.
Steve has become the face of JIBC's successful LESD program, participating in many outreach programs at numerous high schools, conferences and seminars. He is the liaison person for the highly successful exchange program between Waterford Institute of Technology in Ireland and JIBC. As a member of the Canadian Association of Police educators, he acts as the bridge between operational police training and educational programs that lead to careers in law enforcement.
Instructional Excellence Award
Sergeant Bill Kim from JIBC's Police Academy, Deb Roberts from JIBC's Health Sciences Division, and Jackie Kloosterboer from JIBC's Emergency Management Division were this year's recipients of the Instructional Excellence Award (formerly the Instructor of the Year Award).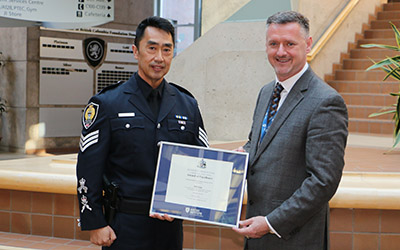 During his 27-year career, Sergeant Bill Kim has trained more than 1,000 law enforcement officers serving in municipal and federal policing agencies, the courts and correctional facilities. His supportive and positive training has influenced the careers of many law enforcement personnel. He uses what he continually learns and experiences to enable others to learn and practice the art of self-defence and the science of physical fitness. Steve Schnitzer, Director of JIBC's Police Academy noted: "Bill is a learner-centred innovator, a hard worker, an ethical instructor and a great team player. He is an exceptional role model to our police recruits and ensures a high level of discipline in each class."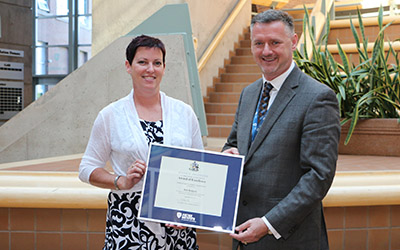 Deb Roberts teaches in several programs within the JIBC Paramedic Academy and the Centre for Professional Health Education, including the Emergency Medical Responder (EMR), Primary Care Paramedic (PCP), Search & Rescue (SAR) Medical Technician QL5A, and PCP Refresher programs. Deb demonstrates superior instructional abilities and personal qualities to our students and stakeholders through expanding the learning environment by accessing local ambulance stations, the rescue squad hall and multiple fire halls. She routinely sets up study groups for the various HSD learners and makes herself available to students if they are struggling or need extra practice.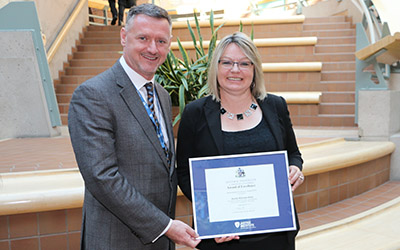 Jackie Kloosterboer is an Emergency Planner with the City of Vancouver and a sessional instructor in JIBC's Emergency Social Services courses for the Emergency Management Division. Jackie's students appreciate her ability to help them apply the knowledge they acquire through her classes to real life situations. Jackie plays an important role in the success of JIBC as the ESS training she provides, contributes to public safety education at both the local and national levels. She travels throughout Canada teaching a variety of ESS courses helping communities to be better prepared to assist those impacted by earthquakes or disasters.
Service Excellence Award
Dennis Yip, Senior Web Specialist, Centre for Teaching, Learning & Innovation
Dennis has worked in a number of roles and Divisions at JIBC including Corrections and the Health Sciences Division before coming to the Centre for Teaching, Learning and Innovation three and a half years ago as a Senior Web Specialist. He consistently goes above and beyond his role. While his primary duties are to help develop courses in Blackboard and WordPress, Dennis takes a proactive role in discovering and learning new technologies, and then sharing this knowledge with other Blackboard developers. Dennis is also a very good problem solver and is always looking for the creative solution.
Excellence in Applied Research Award
Darren Blackburn, Program Manager, Emergency Management Division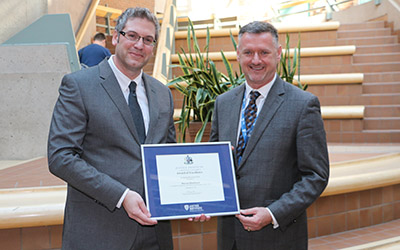 Darren Blackburn exemplifies the spirit of scholarship in a college and institute setting. He is an active advocate and participant in JIBC Applied Research, serving as a member and Chair of the Research Ethics Board, a participant in the ongoing SIMTEC program, and lead in the Critical Infrastructure for Local Authorities project. His work directly contributes to JIBC's vision and mission through participation in applied research activities that increase safety in our communities, inform JIBC programs, and advance practice in the field.
Program of Excellence Awards
Aboriginal Focusing-Oriented Therapy and Complex Trauma Certificate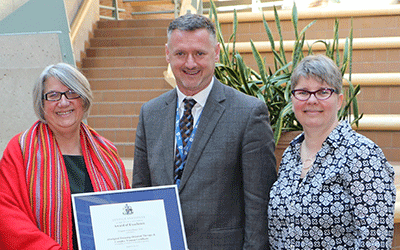 In 2010, Shirley Turcotte (left), a Métis knowledge keeper and clinical counsellor, approached the JIBC regarding a community-based program she had developed and offered internationally, called Aboriginal Focusing-Oriented Therapy and Complex Trauma (AFOT).
The AFOT certificate program is unique in that while there are very few complex trauma training programs in general, there are even fewer Indigenous ones. The AFOT program begins and ends with an Indigenous lens. It firmly centres Aboriginal sovereignty, knowledges and understandings of trauma and healing practices.
Although specific to Indigenous trauma, non-Indigenous communities, especially cross-cultural, disenfranchised and marginalized communities, also strongly identify with the program. AFOT is currently offered to African American and Hispanic communities in New York.
AFOT is built on an immersive/competency-based spiral model. The program emphasizes both knowledge and application through classroom instruction, clinical practice and clinical supervision/observation.
Friend/Associate of JIBC Award
The BC Electronic Library Network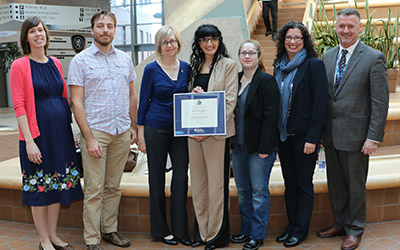 The BC Electronic Library Network has worked with JIBC's Library for about 25 years to provide JIBC's students with access to resources and services. This is truly a stellar consortium with a long and positive history. Through the BCELN, JIBC can provide students with the resources they need to achieve academic success, and employees with key resources in support of high quality programming.
Thanks to the BCELN, the JIBC community has easy and cost-effective access to electronic resources including journal and newspaper articles, e-books and streaming videos, providing support for student assignments, course development and applied research.
Service Awards
Each year, JIBC recognizes the longstanding service, dedication and commitment and accomplishments of its staff who have achieved milestones of employment length ranging from five to 35 years.
In addition to the 26 employees this year recognized for reaching a five, 10 and 15-year milestone of service, JIBC recognized four people with 20 years of service, two individuals for 25 years of service, and April Haddad, JIBC's Institute Librarian, for her 35 years of service to JIBC.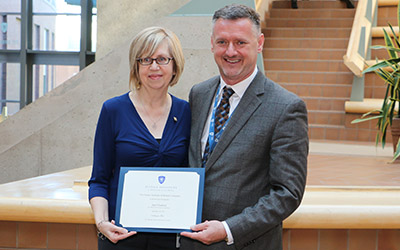 April Haddad, JIBC's Institute Librarian receiving her Service Award for 35 years of service to JIBC
About Justice Institute of British Columbia
Justice Institute of British Columbia (JIBC) is Canada's leading public safety educator with a mission to develop dynamic justice and public safety professionals through its exceptional applied education, training and research. JIBC offers internationally recognized education that leads to certificates, diplomas, bachelor's degrees and graduate certificates; exceptional continuing education for work and career-related learning and development; and customized contract training to government agencies and private organizations worldwide. Our education provides professionals with the knowledge, skills, and abilities to excel at every stage of their career contributing to safer communities and a more just society.
Last updated October 30, 2015