JIBC research finds psychosocial support for emergency management staff vital for effective earthquake response
JIBC's SIMTEC Project develops new earthquake training and exercise program to improve care for emergency managers and staff making life-and-death decisions after a major earthquake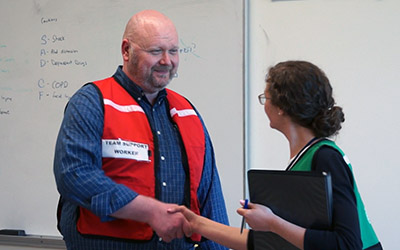 Helping emergency managers become more psychologically prepared to handle the stress involved in their role after a major earthquake is the purpose of a new training program launched at the Justice Institute of British Columbia (JIBC).
Called Exercise Black Fault, this unique training exercise developed by JIBC's Simulation Training and Exercise Collaboratory (SIMTEC) Project gives emergency management staff a valuable opportunity to:
Incorporate the role of a Team Support Worker in an Emergency Operations Centre (EOC) to help staff manage the inevitable stressors that occur;
Assess working relationships of staff in an EOC activated after a major earthquake;
Analyze their strategic and tactical decision-making processes; and
Improve their protocols supporting the psychological health of local EOC staff.
"Being prepared for an earthquake not only involves addressing the physical needs of the community and emergency responders, but also their psychological needs," said Dr. Laurie Pearce, JIBC's Applied Research Chair and SIMTEC Co-Principal. "This is true especially for decision makers in EOCs who will have to make high-consequence, high-risk decisions in a fast-paced environment with limited resources and incomplete information. Exercise Black Fault was designed to be a valuable tool to help decision makers integrate the psychosocial needs of staff in EOCs as they respond to the needs of their community after a major earthquake."
The exercise was developed based on findings from a research simulation held at JIBC's New Westminster Campus in February 2015. Participants in the simulation included members from four local community-based EOCs, first responders, government officials and members of the media.
It builds upon the findings from previous SIMTEC exercises, which found that effective coping strategies and procedures to deal with emotional and psychological stress of responders is vital for effective emergency response.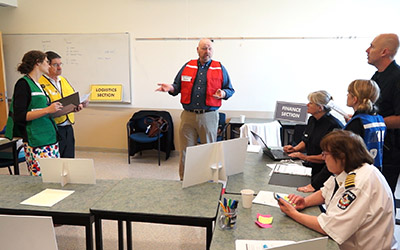 Among the key elements of Exercise Black Fault is the inclusion of a Team Support Worker in an EOC who can provide psychosocial support for EOC members making decisions and providing support in the community after an earthquake. Among the resources developed for Exercise Black Fault is a training manual for team support workers to provide support workers with important information about strategies and techniques to effectively help support EOC members.
"Working in an EOC can be stressful and exhausting," said Hellen Sandvik, Provincial Lead, Disaster Psychosocial Program, within Health Emergency Management BC at the Provincial Health Services Authority. "Team Support Workers can provide the calm in the storm."
Exercise Black Fault is the last of five SIMTEC exercises studying the psychosocial factors involved in the decisions and actions performed by responders during a disaster. It was initially funded through the former Chemical, Biological, Radiological-Nuclear and Explosives (CBRNE) Research and Technology Initiative (CRTI), and continues under the Canadian Safety and Security Program (CSSP), a federal program led by Defence Research and Development Canada's Centre for Security Science (DRDC CSS), in partnership with Public Safety Canada.
"Developing tools and knowledge that look after the physical and mental well-being of Canada's first responders is an important area of research for the CSSP," said Dr. Mark Williamson, Acting Director General, DRDC CSS. "For the past several years, our partnership with JIBC has yielded invaluable results in the field of psychosocial support for both the victims of disasters and the men and women whose job it is to respond to these disasters and protect the safety and security of Canadians."
To access Exercise Black Fault, visit SIMTEC's Exercise Black Fault webpage.
About Justice Institute of British Columbia
Justice Institute of British Columbia (JIBC) is Canada's leading public safety educator with a mission to develop dynamic justice and public safety professionals through its exceptional applied education, training and research. JIBC offers internationally recognized education that leads to certificates, diplomas, bachelor's degrees and graduate certificates; exceptional continuing education for work and career-related learning and development; and customized contract training to government agencies and private organizations worldwide. Our education provides professionals with the knowledge, skills, and abilities to excel at every stage of their career contributing to safer communities and a more just society.
Last updated June 12, 2019