JIBC research shows resiliency training program could help reduce incidences of post-traumatic stress
Significant improvement in resiliency scores shown among participating paramedic students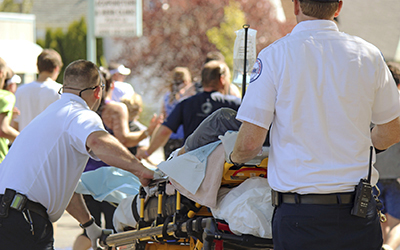 Training people to build personal resilience before experiencing a potentially traumatic situation could help reduce incidences of post-traumatic stress among first responders, concludes a recent research project by the Justice Institute of British Columbia (JIBC).
"We understand the need to stay physically fit, and how it can reduce the impact of and recovery time from a physical injury," said Dr. Greg Anderson, Dean of JIBC's Office of Applied Research & Graduate Studies, and one of the authors of the study. "This study showed it's just as important to train ourselves to be mentally fit, particularly when working in fields where the work environment has the potential to expose individuals to traumatic situations."
The study, "Building Personal Resilience in Paramedic Students," involved 81 paramedic students who completed a survey measuring personal resilience before completing an online resiliency training course followed by practicum experiences out in the field on ambulances and in hospital emergency departments. They then repeated the resiliency survey. Their resiliency score increased by 23.3 per cent.
That's in contrast to the 1.6 per cent increase among the control group of 57 students who completed the survey before and after their practicum experience but without taking the training course.
The online resiliency training course takes six to eight hours to complete and includes videos of first responders telling personal stories of being exposed to trauma on the job and how they dealt with the impact. It also teaches resiliency skills – such as coping strategies and ways to adapt when faced with stress, trauma, or adversity ­­– and raises awareness of potential sources of trauma and personal triggers, and signs and symptoms of stress.
The course has since been revised to more broadly target all first responders including firefighters, sheriffs, corrections workers and police. It is being made available free of charge to JIBC paramedic students on a voluntary basis as part of further research to determine whether the original results can be replicated. Ultimately, the goal is to make the online course available for free to all first responders and people who work in potentially-traumatic environments, such as emergency dispatchers and disaster relief workers, anywhere in the world.
The resiliency training course is in addition to JIBC's ongoing efforts to prepare paramedic students for situations they may face out in the field. Paramedic wellness, including how to look after themselves both physically and mentally, and the importance of building support networks, forms part of the curriculum. Instructors sharing their own experiences of working out in the field, as well as scenario training based on real-life cases, prepare students for what they may encounter on the job.
Students participate in debriefings as part of both classroom simulations, as well as during their practice education experience. They also have access to critical incident stress debriefing as needed throughout their practice education.
"The best thing we can do for our students is to normalize a culture of self-care, peer support and willingness to ask for help, and to model these interactions in class and ensure support is available," said Kathy Harms, Director of JIBC's Health Sciences Division. "This online resiliency training course provides students with additional tools to address mental health concerns and helps them recognize when they may need to reach out for support."
About Justice Institute of British Columbia
Justice Institute of British Columbia (JIBC) is Canada's leading public safety educator with a mission to develop dynamic justice and public safety professionals through its exceptional applied education, training and research. JIBC offers internationally recognized education that leads to certificates, diplomas, bachelor's degrees and graduate certificates; exceptional continuing education for work and career-related learning and development; and customized contract training to government agencies and private organizations worldwide. Our education provides professionals with the knowledge, skills, and abilities to excel at every stage of their career contributing to safer communities and a more just society.
Last updated August 30, 2017