JIBC showcases its latest applications of educational technology
JIBC Demofest highlighted more than a dozen innovative examples of new educational technology being incorporated in its courses and programs
JIBC's Advanced Care Paramedic Program was among the many programs at JIBC that participated in DemoFest this year.
As the educational needs of students continue to evolve, Justice Institute of British Columbia (JIBC) has embraced new technologies to provide more effective and efficient ways to provide needed public and community safety education and training.
Fifteen innovative examples of how new educational technologies have been incorporated in JIBC courses were on display December 3rd at the 2014 JIBC Demofest held at the New Westminster Campus.
"For a post-secondary institution of our size, there is an amazing amount of work being done at JIBC incorporating educational technology," said Dr. Tannis Morgan, Associate Dean of JIBC's Centre for Teaching and Learning Innovation (CTLI). "There are so many examples throughout the institution improving the effectiveness of the education and training being provided at JIBC."
Every JIBC School has continued to incorporate new tools and applications into its educational and training programs ranging from uses of multimedia and video, open educational resources, simulations and other emerging technologies.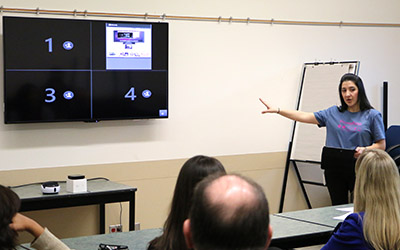 JIBC Student and Faculty Development Coordinator Naz Maghsoudi presents at DemoFest some of the latest equipment that can be used in the classroom.
For example, a "Classroom of the Future" was showcased at the event that could cost-effectively provide multimedia capacity for classrooms that currently do not have screens, projectors and computers connected to a network or the Internet.
JIBC is piloting the use of wePresent that enables instructors and students to wirelessly share and present multimedia content from a laptop, tablet or smartphone on a large screen in a classroom. Such a set up would be far more cost effective to implement throughout a campus and also minimize maintenance costs compared with the use of wired classroom projectors.
The pilot classroom adds to the videoconferencing classroom that has been used for JIBC's Advanced Care Paramedic and Law Enforcement Studies Diploma (LESD) programs to connect students at the Victoria, New Westminster and Kelowna campuses.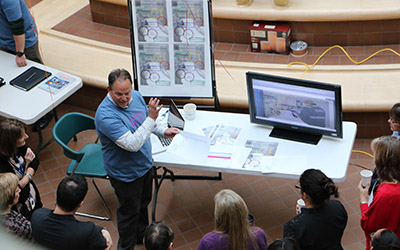 JIBC Simulation Specialist Bob Walker presents the pilot simulation project with the UBC Faculty of Medicine using Praxis.
JIBC has also continued to expand the use and complexity of both live and computer-based training simulations that give students the opportunity to apply the knowledge they've received and gain invaluable experience.
The use of JIBC's Praxis simulation technology as a means of improving health care education at UBC was presented at the event, along with the inter-professional benefits of live, multi-agency training simulations, such as the one that was recently conducted at the New Westminster campus in October.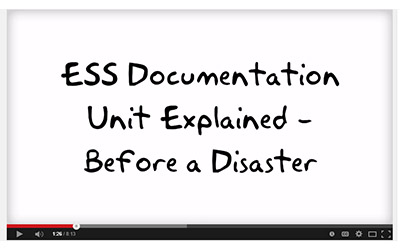 JIBC has continued to develop new open educational resources using various tools and services.
The latest open educational resources at JIBC were also showcased this year. A number of new open courses and multimedia materials have been under development using services such as Blackboard, Powtoon, Storyline, QuestionMark and WordPress. These courses and programs cover a diverse array of subjects that include workplace bullying, victim services, emergency social services, police investigations, intelligence analysis, law enforcement diversity training, HazMat awareness, and winter driver training.
The latest incorporation of tablets in JIBC's Motorcycle Training Program, the LESD Program and the Advanced Care Paramedic Program was also demonstrated at this year's event.
"As anyone who attended this year's event can attest, the technologies being used at JIBC are having a significant impact on the learning students receive at the Institute. It's making teaching more convenient and effective for instructors, and in many cases, it's helped increase interactivity among students in class," said Dr. Morgan. "The support of our donors and stakeholders at JIBC, and the interest and willingness of instructors and faculty to incorporate new technology, is what makes this all possible. Their support, and the interest by educators from other institutions that attended this year's event, is greatly appreciated."
For more information about the educational technology showcased at the event, visit the CTLI blog.
About Justice Institute of British Columbia
Justice Institute of British Columbia (JIBC) is Canada's leading public safety educator. Our specialized programs lead to certificates, diplomas, bachelor's degrees and graduate certificates in Policing, Investigations, Emergency Management, Firefighting, Paramedicine, Sheriffs, Corrections, Counselling, Leadership, Mediation, Conflict Resolution, and Driver Training. JIBC also provides customized contract training to domestic and international governments, agencies and organizations. Our approach to education emphasizes applied learning and realistic simulations, delivered by instructors who are experienced practitioners. Our students' work makes communities safer, and helps people in need, throughout B.C., across Canada and around the world.
Last updated February 10, 2015