JIBC showcases its latest applications of educational technology
Many examples of how new educational technology is being used in JIBC courses and programs highlighted at this year's JIBC DemoFest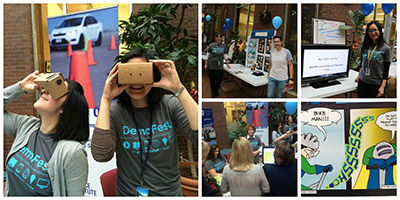 Educational technology has an important role in improving and expanding access to the education and training provided by the Justice Institute of British Columbia (JIBC).
A dozen examples illustrating how JIBC has incorporated new technology and teaching tools were on display at the third annual JIBC DemoFest organized by JIBC's Centre for Teaching, Learning and Innovation (CTLI) earlier this month.
"Each year, we continue to find new ways to use technology to create effective, interactive, student-centred courses," said Dr. Tannis Morgan, Associate Dean of CTLI. "We are very fortunate to have staff and faculty across JIBC who have a strong desire to be innovative and explore new ways of providing the important education and training they provide."
In addition to expanding use of multimedia and video-conferencing in JIBC courses, instructors have used a variety of authoring tools to allow students and clients from across B.C. and around the world to access needed public safety education and training.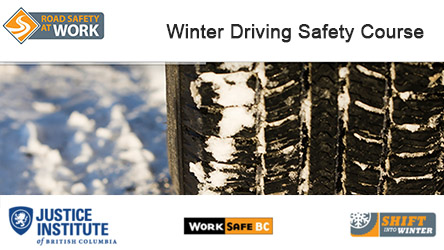 For example, the award-winning Winter Driving Safety Course developed and managed by JIBC for Road Safety at Work with WorkSafeBC uses WordPress and other tools to provide the practical skills and knowledge for employers, supervisors and managers to integrate winter driving safety into an organization's overall road safety program.
WordPress also serves as the backbone for the Aboriginal Disaster Resiliency Planning Guide, which was created to support community-level disaster resilience planning in Aboriginal communities across Canada.
A variety of tools such as Storyline and Blackboard have been applied in an number of customized courses for students and clients, such as
A course for Emergency Management BC that provides Emergency Operations Centres (EOC) training for provincial government employees; and
A course for child protection workers in the Ministry of Children and Family Development.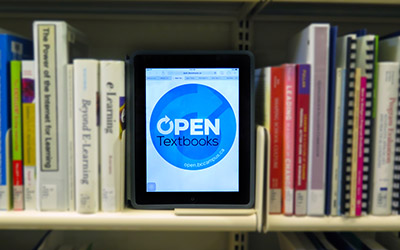 JIBC has also supported increased access to post-secondary education with two instructors publishing open textbooks available through B.C.'s Open Textbook initiative. Earlier this year, Steve McCartney, Coordinator, of the Law Enforcement Studies Diploma Program, published the first Criminology open textbook in the BC Open Textbook Collection. And in August, JIBC instructor Tara Horkoff published the first Canadian edition of Writing for Success, which has since been used by instructors in other post-secondary institutions in B.C.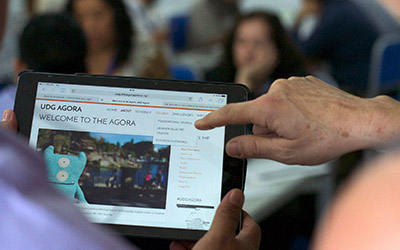 (Flickr photo by Alan Levine under a Creative Commons license)
JIBC's reputation for innovation has continued to grow, leading to various projects with other post-secondary institutions. For example, in July, CTLI started delivery of a customized professional development program for more than 300 instructors in Mexico. The program at the Universidad de Guadalajara (UdeG) was a six-month program to help the university's professors integrate new student-centred mobile-learning strategies into their courses.
"For an institution of our size, there is a remarkable amount of innovative work being done to increase accessibility and effectiveness of the specialized education we provide on campus and online," said Dr. Morgan. "The interest by our instructors and the support from donors, clients and stakeholders is what makes all this possible and is greatly appreciated."
For more information about the educational technology showcased at the event, visit the CTLI blog.
About Justice Institute of British Columbia
Justice Institute of British Columbia (JIBC) is Canada's leading public safety educator with a mission to develop dynamic justice and public safety professionals through its exceptional applied education, training and research. JIBC offers internationally recognized education that leads to certificates, diplomas, bachelor's degrees and graduate certificates; exceptional continuing education for work and career-related learning and development; and customized contract training to government agencies and private organizations worldwide. Our education provides professionals with the knowledge, skills, and abilities to excel at every stage of their career contributing to safer communities and a more just society.
Last updated February 18, 2016