JIBC signs letter of articulation with Canadian Police College
Allows transfer of credits into JIBC intelligence analysis programs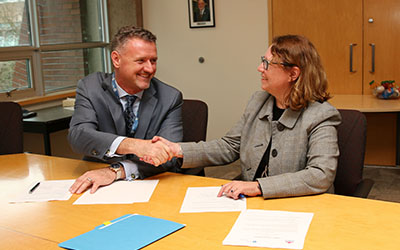 Dr. Michel Tarko, president and CEO of JIBC, shakes hands with RCMP Assistant Commissioner Barbara Fleury, Executive Director of the Canadian Police College, upon the signing of an articulation agreement between the two educational institutions.
Students of the Canadian Police College (CPC) will now have an opportunity to transfer credits from certain courses towards completion of two graduate programs at the Justice Institute of British Columbia (JIBC).
"We are pleased to further cement the relationship between CPC and JIBC through this letter of articulation," said Dr. Michel Tarko, JIBC President and CEO. "We welcome the CPC students who seek to further their educations and expand the career opportunities available to them through this collaboration between our two institutions."
"Police and all career professionals who have a role in law enforcement are always looking for advanced and specialized development opportunities," said RCMP Assistant Commissioner Barb Fleury, Executive Director of the CPC and the Centre for Excellence in Police Leadership. "The inroads we make between our educational institutions provide that much more choice and growth to employees who have chosen a career in the vital area of public safety."
The CPC provides advanced and specialized training and executive development to policing and law enforcement partners from all jurisdictions in Canada and internationally.
Under the letter of articulation signed recently between JIBC and CPC, students who successfully complete the CPC Tactical Intelligence Analysis course and Strategic Intelligence Analysis course would be eligible to transfer credits towards either the Graduate Certificate in Intelligence Analysis, or the Graduate Certificate in Tactical Criminal Analysis.
Completion of each CPC course will be eligible for transfer of three credits towards the JIBC programs. Each of the two JIBC graduate certificates requires completion of 15 credits in total and their courses are delivered online.
"JIBC is at the forefront of intelligence analysis education and training as the only educational institution in Canada to offer full certificate programs on the subject," said Tarko. "We very much appreciate this new collaboration with Canadian Police College as recognition of the value of our programs and this emerging and innovative field of study."
About Justice Institute of British Columbia
Justice Institute of British Columbia (JIBC) is Canada's leading public safety educator with a mission to develop dynamic justice and public safety professionals through its exceptional applied education, training and research. JIBC offers internationally recognized education that leads to certificates, diplomas, bachelor's degrees and graduate certificates; exceptional continuing education for work and career-related learning and development; and customized contract training to government agencies and private organizations worldwide. Our education provides professionals with the knowledge, skills, and abilities to excel at every stage of their career contributing to safer communities and a more just society.
Last updated August 30, 2017