JIBC students to gain a global perspective of law enforcement
Two JIBC Law Enforcement Studies Diploma students are the latest to embark on a student exchange at the Waterford Institute of Technology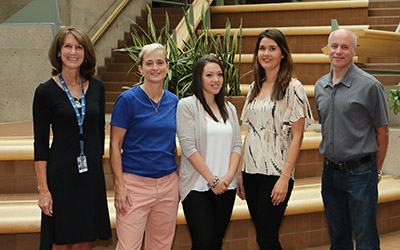 Dean Barb Kidd (left), Shaun Machesney, Coordinator, Bachelor of Law Enforcement Studies, and Steve McCartney (far right), Coordinator, Law Enforcement Studies Diploma (LESD), with Connie Marginson and Jaymi Kuniss, LESD students who will be spending their last semester in Ireland.
This fall, two students at the Justice Institute of British Columbia (JIBC) will have a rewarding opportunity to spend their last semester gaining an international perspective on law enforcement and criminal justice.
Law Enforcement Studies Diploma (LESD) students Connie Marginson and Jaymi Kuniss will be spending the rest of the year on a student exchange at the Waterford Institute of Technology (WIT) in Ireland. Both students were recipients of the LESD International Exchange Scholarship supported by The Justice Institute of British Columbia Foundation (The JIBC Foundation) and the Irving K. Barber One World International Scholarship administered by the Victoria Foundation.
Since 2013, JIBC and WIT have partnered to provide student exchange opportunities for law enforcement and criminal justice students studying at both post-secondary institutions. The goal of the exchange is to broaden the intercultural experience for students and provide an opportunity for them to explore the international dimensions of justice and public safety.
JIBC has partnered with WIT because of its prominent Bachelor of Arts degree in Criminal Justice Studies and its robust exchange program.
LESD Coordinator Steve McCartney noted that students who have returned from WIT come back with a greater level of independence and self-confidence that not only enhances their academic learning, but contributes to the realization of their career goals.
"Given there are different law enforcement career paths available to LESD graduates, this exchange program provides a meaningful opportunity to gain a different perspective and help them choose the path that's best for them," he said. "It's rewarding to know that each student that has participated in the exchange program has returned with a stronger desire to make a difference in the community."
"This international exchange allows students to discover a broader perspective and a unique insight into public safety internationally," said Bernie Magnan, Chair of The JIBC Foundation. "We are delighted to support students in their success and development as these experiences help reinforce their learning."
This year's exchange students will be documenting their experience on the LESD Facebook Page. Students interested in applying for the scholarship in 2016 can send an email to lesd@jibc.ca.
About Justice Institute of British Columbia
Justice Institute of British Columbia (JIBC) is Canada's leading public safety educator with a mission to develop dynamic justice and public safety professionals through its exceptional applied education, training and research. JIBC offers internationally recognized education that leads to certificates, diplomas, bachelor's degrees and graduate certificates; exceptional continuing education for work and career-related learning and development; and customized contract training to government agencies and private organizations worldwide. Our education provides professionals with the knowledge, skills, and abilities to excel at every stage of their career contributing to safer communities and a more just society.
Last updated September 10, 2019