JIBC students helped due to successful General Student Bursary Campaign
Giving reaches new heights with support of JIBC staff, faculty and local businesses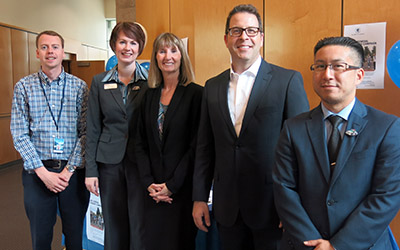 Christopher Duffin, JIBC Development Officer; Tracy Campbell, JIBC Associate Director, Office of Development, and Executive Director, The JIBC Foundation; Louise Perry, G&F Financial Group New Westminster Branch Manager; Blair Fryer, Director, The JIBC Foundation; and Raymond Tam, JIBC General Bursary Recipient at the launch of the General Bursary Campaign in June 2015
Students who might otherwise have to delay or forgo their dream of a career in public safety were able to gain the education they need thanks to donor support for the General Student Bursary Campaign.
Led by The Justice Institute of British Columbia Foundation (The JIBC Foundation), the 2015-2016 General Student Bursary Campaign marked a significant milestone, raising $25,000 through contributions from JIBC staff, faculty, local businesses, friends and supporters.
With this shared commitment and vision to help students succeed, the campaign enabled 15 students to receive a General Student Bursary.
Scott Ostertag, JIBC Financial Aid Advisor, said, "Working with students directly, I see, firsthand, how bursaries have a profound impact on the lives of JIBC students, especially those who face significant financial pressures to complete their post-secondary education. Because of the support from our donors in the campaign, students are in a better position to focus on their studies and leverage the incredible opportunities a JIBC learning experience has to offer."
Students like Ashley Davidson in the Law Enforcement Studies Diploma program.
"When I received the email stating that I had been awarded a bursary, I actually stopped in my tracks, had a huge smile on my face and tears in my eyes," notes Ashley. "You have no idea how much this means to me and how much it has motivated me even more to pursue my dreams. This bursary will really help me with not having to worry about the cost of tuition for my next semester."
Phoenix Gordon, a bursary recipient and student in JIBC's Fire Fighter Technologies Certificate Program, added, "Losing out on, or even postponing my dream of joining the Fire Service would have been devastating. I don't have words to express what this means to me. Your help has kept me above water."
JIBC staff and faculty who supported the campaign had the opportunity to double the impact of their gift through matching funds from The JIBC Foundation.
Highlighting why giving back means so much to him, JIBC staff member Luc Lang shares, "I grew up in a small village in northern New Brunswick in the 60's where, out of necessity, my mom and dad first instilled in our family of nine a sense of support for each other and our community at large. At times, we contributed to making our community a better place, at times we benefited from the goodwill of others in our time of need. Fast forward a few decades and that sense of community still has strong roots in my everyday life. Providing financial support to those in need, specifically JIBC students, is part of a legacy of giving entrenched in me at a young age."
"The impact of this campaign on students' lives remains at the core of our fundraising efforts, notes Bernie Magnan, Chair of The JIBC Foundation. "It also highlights an established culture of giving at the institute, uniting the JIBC community together for one purpose: to help students. In fact, more than half of the individual donors to The JIBC Foundation in 2015 were JIBC staff – many of whom contributed for the first time."
The campaign is also seeing a collaborative effort shared by a variety of community stakeholders who care about JIBC students, notably business leaders in New Westminster. G&F Financial Group, the first corporate donor to kick off the campaign with a donation of $500, was so inspired by the stories of student success, they made an additional donation of $1,000 to wrap up the campaign and help it reach new heights.
"Giving is very important for us at G&F Financial Group," notes Louise Perry, New Westminster branch manager. "As G&F Financial Group celebrates its 75th anniversary, we're proud to partner with JIBC and help students at a critical point in their learning. Together with our members and employees our goal is to enrich the lives of those in our communities We see JIBC as a perfect fit with our giving philosophy and we're delighted to offer our support."
Although an important milestone has been reached, the work to support student success continues. Of the 180 students who applied for a JIBC General Bursary last year, which provides tuition support for those demonstrating financial need, only 38 students received one. Simply put, student need exceeds the funding available. The JIBC Foundation hopes they can count on the continued support of donors for another record breaking year. Help The JIBC Foundation, help JIBC students.
To donate to the JIBC General Bursary Campaign, visit the JIBC Foundation Online Donation webpage. Be the one – giving to student success.
About The Justice Institute of British Columbia Foundation
For more than 20 years, The Justice Institute of British Columbia Foundation (The JIBC Foundation) has inspired giving for important needs that enhance education, training, student learning and applied research at JIBC. These needs most often include student scholarships and bursaries, new equipment and technology, and other tools related to student success. As the recipient and steward of charitable gifts, The JIBC Foundation is building meaningful relationships with communities to support Canada's leading public safety educator.
Last updated April 4, 2017