JIBC takes home Colleges and Institutes Canada Award of Excellence
Bachelor of Emergency and Security Management Studies earns silver for Program Excellence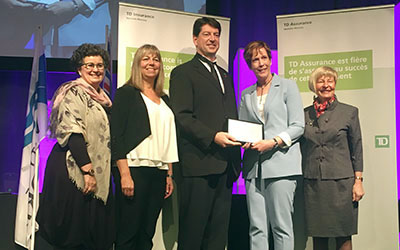 A degree program at the Justice Institute of British Columbia (JIBC) was recognized for program excellence recently by Colleges and Institutes Canada (CICan).
JIBC's Bachelor of Emergency and Security Management Studies program (BESMS) earned silver in the Program of Excellence category of the Colleges and Institutes Canada Awards.
"I am very pleased to see JIBC's BESMS program being recognized on a national level for all that it has accomplished in the eight years since it was launched," said Dr. Michel Tarko, President and CEO of JIBC. "The program has been a star for us and embodies all that JIBC strives for with its education and training activities – relevant, meaningful and engaging programming that supports public safety and aligns with our students' career aspirations."
BESMS is Canada's first undergraduate program to combine emergency management and security studies with a foundation in business, a combination which aims to prepare students to fulfill a wide range of duties and responsibilities in a myriad of potential positions in the field. It was developed to fill a need for formal education in the emerging fields of public safety and security studies.
Launched in 2010, the BESMS program is delivered online, designed to be easily accessible to students anywhere with an internet connection. It is also flexible, allowing students to enter at the beginning of any semester, enabling students to take courses either full-time or part-time and at a pace that is manageable for their personal circumstances. It also allows an option to graduate with a Diploma in Emergency and Security Management partway through the BESMS program. JIBC plans to offer the program as a face-to-face option at its New Westminster campus in September 2019.
Sarah Wareing, Dean of JIBC's School of Public Safety, noted that one of the strengths of the BESMS program is its applied nature.
"Many of our students are mid-career professionals who are able to apply what they learn to the work they do every day," Wareing said. "As we prepare for our first cohort of students in a face-to-face format, we anticipate attracting a younger demographic who are new to public safety. We look forward to equipping the next generation of emergency and security managers with the knowledge and skills they need to be successful in their careers."
The CICan Awards program recognizes and promotes excellence within Canadian colleges, institutes, cégeps and polytechnics. The Program Excellence Award recognizes a program that is innovative, portable, sustainable, and effective.

About Justice Institute of British Columbia
Justice Institute of British Columbia (JIBC) is Canada's leading public safety educator with a mission to develop dynamic justice and public safety professionals through its exceptional applied education, training and research. JIBC offers internationally recognized education that leads to certificates, diplomas, bachelor's degrees and graduate certificates; exceptional continuing education for work and career-related learning and development; and customized contract training to government agencies and private organizations worldwide. Our education provides professionals with the knowledge, skills, and abilities to excel at every stage of their career contributing to safer communities and a more just society.
Last updated October 19, 2018