JIBC welcomes Advanced Education Minister to Maple Ridge campus
Minister experiences applied learning at JIBC and gains new insights about B.C.'s most extensive fire training facility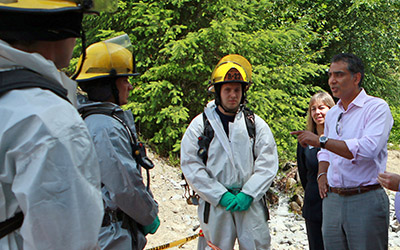 Advanced Education Minister Amrik Virk speaks with firefighting students
at JIBC's Maple Ridge campus (Photo by Richard Chu)
Justice Institute of British Columbia (JIBC) welcomed BC Advanced Education Minister Amrik Virk to its Maple Ridge campus on June 26.
This was Minister Virk's first visit to the campus where firefighting students and professionals obtain their hands-on practice and training. Accompanying the Minister was Marc Dalton, MLA for Maple Ridge-Mission and Doug Bing, MLA for Maple Ridge-Pitt Meadows.
The Minister was hosted by Colleen Vaughan, Dean of the School of Public Safety, Peter Grootendorst, Director of JIBC's Fire & Safety Division and Dr. Greg Anderson, Dean of the Office of Applied Research and Graduate Studies.
During his tour, the Minister Virk spoke with firefighting students in the Career Fire Fighter Pre-Employment Certificate Program and was introduced to the many specialized simulation training props regularly used on the site. This includes a ship's steel superstructure, a three-story concrete burn building, and train derailment prop used by firefighters across the country to respond to railway disasters, fires and chemical spills.
Minister Virk, Mr. Dalton and Mr. Bing also experienced some of the applied training that happens on campus. Donning the appropriate fire gear, they successfully put out a car fire.
"It was exciting to visit JIBC's Maple Ridge campus and participate in a firefighting exercise with students," said Advanced Education Minister Amrik Virk. "Having a hands-on training facility like this one ensures that men and women who choose careers as emergency responders get the very best training to prepare them for real-life situations."
"It was a pleasure to welcome Minister Virk to the campus and provide an opportunity for him to meet our students and experience our applied training," said Colleen Vaughan, Dean of the School of Public Safety at JIBC. "It was also an opportunity to share updates about our fire and emergency management programs that aim to increase access to our training and expand career opportunities for our students."
"We appreciate the opportunity to introduce Minister Virk to one of our unique campuses where we work with a number of partners to provide vital public safety training and education," said Dr. Michel Tarko, President and CEO of JIBC. "We are committed to working with all our stakeholders, including those in government and industry, to support the public safety training and education needs of our province."
About Justice Institute of British Columbia
Justice Institute of British Columbia (JIBC) is Canada's leading public safety educator. Our specialized programs lead to certificates, diplomas, bachelor's degrees and graduate certificates in Policing, Investigations, Emergency Management, Firefighting, Paramedicine, Sheriffs, Corrections, Counselling, Leadership, Mediation, Conflict Resolution, and Driver Training. JIBC also provides customized contract training to domestic and international governments, agencies and organizations. Our approach to education emphasizes applied learning and realistic simulations, delivered by instructors who are experienced practitioners. Our students' work makes communities safer, and helps people in need, throughout B.C., across Canada and around the world.
Last updated April 5, 2017