JIBC welcomes Canada's Transport Minister Marc Garneau
JIBC's Fire & Safety Division showcases the unique firefighting training expertise available to support improved first responder training across Canada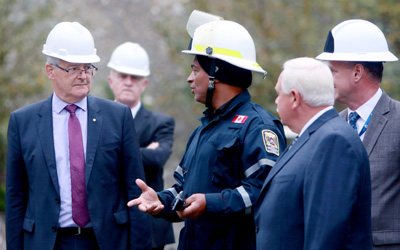 Richard White, coordinator of JIBC's Fire & Safety Division, describes the first responder training being demonstrated to Transport Minister Marc Garneau, along with JIBC Fire & Safety Director Peter Grootendorst and JIBC President Michel Tarko, at JIBC's Maple Ridge campus Wednesday.
Justice Institute of British Columbia (JIBC) welcomed the Honourable Marc Garneau, Minister of Transport, to its Maple Ridge campus today where the expertise and unique capabilities of the Fire & Safety Division were showcased.
The campus tour was led by Dr. Michel Tarko, JIBC President and CEO, Colleen Vaughan, Interim Vice-President Academic, and Peter Grootendorst, Director of JIBC's Fire & Safety Division.
Minister Garneau observed a number of training scenarios unfold, including one that utilized the full-sized mock-up of a train derailment used by firefighters to practise their skills in suppressing fires caused by hazardous and flammable materials and securing the safety of an accident site.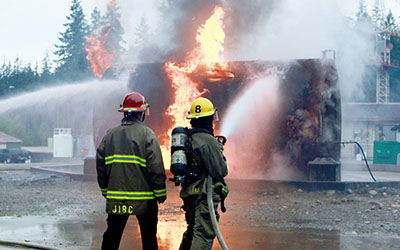 JIBC student firefighters participate in training exercises simulating the derailment of rail cars transporting dangerous goods at JIBC's Maple Ridge campus.
The train derailment prop, and others at the Maple Ridge campus, were used earlier this year for Exercise Vulcan, a multi-agency training exercise led by Transport Canada and Defence Research and Development Canada. This exercise was designed to improve the response to incidents involving trains carrying flammable liquids such as crude oil. Participants included first responders from the Lower Mainland and Thompson-Okanagan regions of British Columbia, as well as rail operators, industry responders, and remedial experts. It was one of a number of ongoing initiatives funded by the Government of Canada in response to the Lac-Mégantic rail disaster.
"Today, I had the opportunity to learn firsthand how the Justice Institute of British Columbia Maple Ridge campus is taking a leadership role on emergency response training," said Minister Garneau. "A safe and secure rail transportation system is my top priority as Transport Minister and making sure that first responders and key enforcement personnel are trained to handle incidents is a top priority for the Government of Canada."
The use of realistic simulations and scenario exercises in JIBC's courses and programs is at the heart of the Institute's training and education of public safety personnel. It has worked with the railway industry to develop emergency response training programs. JIBC also uses the award-winning PRAXIS simulation technology, which enables it to provide web-based, immersive and interactive scenario training anywhere in the world.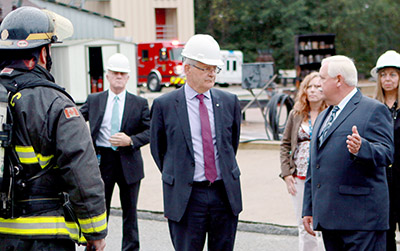 Peter Grootendorst, Director of JIBC's Fire & Safety Division, explains to Transport Minister Marc Garneau how JIBC prepares firefighters and first responders for work in the field using realistic simulations and scenarios.
"We look forward to supporting Minister Garneau's mandate priorities related to railway safety and the transportation of dangerous goods by rail," said President Tarko. "We are also pleased to be part of the solution by exploring opportunities with Transport Canada to provide training in the areas of fire and safety, emergency management, Incident Command System, and transportation of LNG, as well as the use of our PRAXIS technology and expertise to deliver emergency exercises and simulations in rural and remote communities. Ministry officials have indicated this is an action-oriented government and we are ready to assist."
JIBC has a history of working with Transport Canada, including more than 30 years delivering Transport Canada-approved Marine Fire & Safety courses. JIBC is a leader in hazardous materials response training and is the primary provider of this training to Transport Canada's Canadian Transport Emergency Centre (CANUTEC) personnel and its Remedial Measures Specialists.
From left: JIBC President Michel Tarko, Transport Minister Marc Garneau, JIBC Interim Vice-President Academic Colleen Vaughan, JIBC Board of Governors Chair Jim McGregor, JIBC Fire & Safety Director Peter Grootendorst, Michael Keenan, Deputy Minister, Transport Canada, Marc Grignon, Regional Director, Surface, Transport Canada, and Nicole Girard, Director General, Transportation of Dangerous Goods, Transport Canada.
Mr. Grootendorst and JIBC Coordinator/Instructor Brent Cowx also served on Transport Canada's Emergency Response Task Force, which was formed following the Lac-Mégantic train derailment incident. They both provided assistance, along with other JIBC experts, in developing an online training program and first responder competency guidelines for responding to railway incidents involving flammable liquids.
Mr. Grootendorst has proposed to Transport Canada that the next step in the process would be development of a standardized national training program for first responders to such incidents. Currently, many first responders and industry personnel are being sent to the U.S. for such training.
"We're very privileged and pleased to have the opportunity to showcase our facilities in Maple Ridge," said Mr. Grootendorst. "We have been working with Transport Canada and supporting them with the Emergency Response Task Force. We're pleased to continue to support them in any way we can."

About Justice Institute of British Columbia
Justice Institute of British Columbia (JIBC) is Canada's leading public safety educator with a mission to develop dynamic justice and public safety professionals through its exceptional applied education, training and research. JIBC offers internationally recognized education that leads to certificates, diplomas, bachelor's degrees and graduate certificates; exceptional continuing education for work and career-related learning and development; and customized contract training to government agencies and private organizations worldwide. Our education provides professionals with the knowledge, skills, and abilities to excel at every stage of their career contributing to safer communities and a more just society.
Last updated April 6, 2017