JIBC Welcomes Visit from Advanced Education Minister
Honourable Amrik Virk meets students and experiences applied learning at JIBC
Justice Institute of British Columbia's Board and President welcomed the Minister of Advanced Education to the New Westminster Campus this afternoon, for a tour that included discussion with students as well as applied learning demonstrations.
Board Vice Chair Jim McGregor, Board member Sukhminder Singh Virk, and President Dr. Michel Tarko hosted the Honourable Amrik Virk.
After a discussion of current activity at JIBC, as well as the institute's future strategic goals, the Minister talked to police recruits doing fitness training; received a student-led demonstration of paramedic teaching techniques, including use of a high-tech meta-mannequin; spoke with a class of Law Enforcement Studies Diploma students, many of whom expect to ladder into the new Bachelor of Law Enforcement Studies degree, which Minister Virk recently approved.
And, as part of a paramedic simulation, the Minister lifted a stretcher into the back of an ambulance.
"I really enjoyed talking with students today, and joining them on a training exercise," said Minister of Advanced Education Amrik Virk. "After a long career with the RCMP I have a particular interest in the training we're providing for our public safety and justice professionals. I'm very impressed with the high quality of the programs, faculty and facilities at JIBC."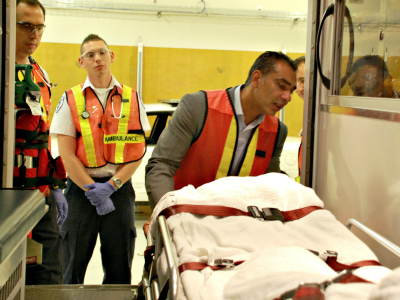 Primary Care Paramedic students showed Minister Virk how to lift a stretcher into the back of an ambulance.
"We share the Province's goals for educational excellence, and student success, within a high quality post-secondary sector in BC," said JIBC Board Vice Chair Jim McGregor. "The Minister certainly understands the importance of our focus on public and community safety education and training, and he encouraged us with his support for our mission of innovative education for those who make communities safe."
"It was a pleasure to welcome Minister Virk to the campus today, to discuss JIBC's future, meet some of our dynamic students, and to see our learning environment," said JIBC President Dr. Michel Tarko. "He experienced our emphasis on applied learning, informed by theory and research, that prepares public and community safety professionals to fulfill vital roles."
About Justice Institute of British Columbia
Justice Institute of British Columbia is a unique public post-secondary institution focused on public and community safety education and training. JIBC provides specialized programs leading to certificates, diplomas, bachelor's degrees and graduate certificates in Policing, Investigations, Emergency Management, Fire fighting, Paramedicine, Sheriffs, Corrections, Counselling, Leadership, Mediation, Conflict Resolution, and Driver Training. JIBC also provides customized contract training to domestic and international governments, agencies and organizations. JIBC emphasizes realistic simulations and applied, hands on education, delivered by instructors who are experienced practitioners. Every year, approximately 30,000 students study at JIBC. Their work makes communities safer, and helps people in need, throughout BC, across Canada and around the world.
Last updated April 10, 2014