JIBC youth crime prevention project supports at-risk youth
Project funded with a provincial civil forfeiture grant uses comics to help build grit and resilience in nearly 500 students across BC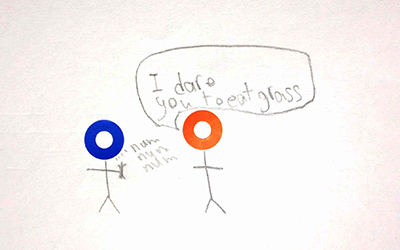 When Dr. Jessica Motherwell, an instructor at the Justice Institute of British Columbia (JIBC) and counsellor, first broached the idea of drawing comics as a way to teach children how to overcome obstacles and make good decisions, it was not uncommon for teachers and students to respond: "I can't draw."
But by the end of a typical two-hour Life Outside the Box session with a class of elementary students, everyone had done just that. They used simple stick figures to tell stories, often involving superhero characters who persevered through difficult situations, faced failure and ultimately lived to save the day.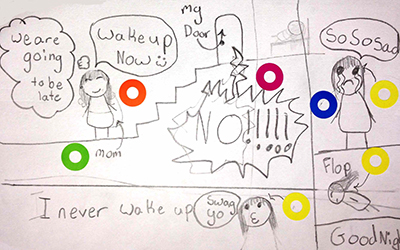 "All of a sudden the students had in their hands the ability to tell their story," said Motherwell, a JIBC Law Enforcement Studies Diploma instructor. The developmental psychology and diversity expert spearheaded the Life Outside the Box pilot project funded through a $100,000 civil forfeiture grant from the Province of British Columbia.
Over the last two years, almost 500 students in grades 5 to 7 in six communities across the province participated in the unique youth crime prevention project. Most of the children were identified as at-risk and vulnerable due to socio-economic and family backgrounds and behavioural issues. Ultimately, the program exceeded all expectations by fully engaging virtually all participants, particularly boys, who represent the majority of youth who come in contact with the law.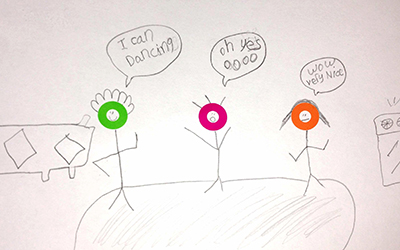 The key to the program's success was that everyone could participate, Motherwell explained. Even those who had trouble writing could draw their simple cartoons and then narrate their stories to their schoolmates. She noted that by show-and-tell time, all participating students gave the comic technique a try and were supportive of each other's work.
Creating and sharing stories is one good way to work out issues that might be challenging students. "You can't write a story that isn't a mirror of part of yourself," Motherwell said.
Motherwell had the students come up with stories that involved their superheroes or other characters working their way out of trouble and facing challenges. In the process, they learned the value of grit ("stick-to-it-iveness") and resiliency ("bounce-back-ability"). The program emphasized that the most interesting stories — the ones that keep us riveted — are not about the "perfect" life but rather involve the hero facing, and eventually overcoming, adversity.
"If you have the opportunity to be the hero in your own life, perhaps you'll be less likely to join a gang and be like the dark villain. Perhaps you'll be better able to engage in the beauty and pain of this world and find your way."
Participating teachers saw the immediate impact of engaging students who were often not among those who willingly took part in such group activities.
"My students were engaged with the Life Outside the Box program because on their own time – out of school – they absolutely love graphic novels and stories about heroes," said Victoria teacher Shameem Heatherington.
"After Jessica had enthusiastically taken photos of the students' stories, and displayed them, one of my students exclaimed, 'I'm not usually a good artist!'"
Prince George teacher Stacey Kelsh noted the academic level of students in his Grade 6/7 class last year was wide ranging.
"The comic idea allows for all to relate and feel comfortable participating," Kelsh said. "When we discuss the superhero struggle or focus on grit or resilience, the students get it. They get the idea of needing to not give up and seeing their struggles related to superheroes gives them hope."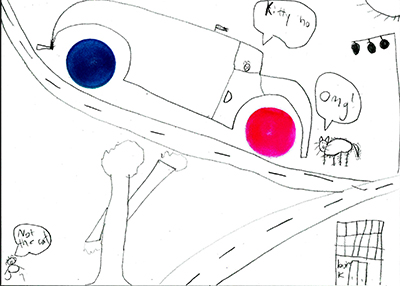 In addition to drawing comics, the project involved school liaison officers from local police departments, who spoke about themselves and their work and then spent time drawing, creating and discussing superhero stories with the children.
"Often there can be a negative perception of the police in their lives due to events outside of school," Kelsh said. "But a number of students commented on how friendly and nice the officers were and that they were not expecting it."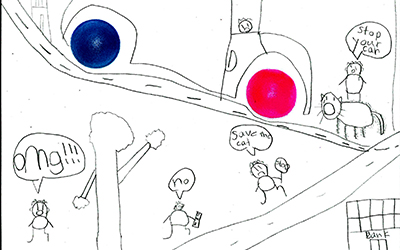 Kelsh said he sees the program's value as an effective crime prevention tool especially because it doesn't preach to the students.
"Instead it focuses on character building through positive psychology with activities that create a sense of self-worth and hope for them that go beyond just telling them not to join gangs or do drugs after school. I believe this program helps by giving them an opportunity to build a positive identity which they can then use to hopefully make better choices."
Buoyed by the success of the pilot project, Motherwell is now seeking funding to expand the initiative to more schools and communities. She is in the process of writing a training manual for others to facilitate the program. And she is exploring the possibility of adapting it for use with Syrian refugees and other newcomers and communities with language barriers.
"The development of this unique crime prevention program was only made possible due to the Province of British Columbia's generous civil forfeiture grant," said JIBC Foundation Board Chair Bernard Magnan. "Teaching at-risk youth to make better decisions gives them hope for a better future, potentially even as real-life heroes – justice and public safety professionals."
About The Justice Institute of British Columbia Foundation
For more than 20 years, The Justice Institute of British Columbia Foundation (The JIBC Foundation) has inspired giving for important needs that enhance education, training, student learning and applied research at JIBC. These needs most often include student scholarships and bursaries, new equipment and technology, and other tools related to student success. As the recipient and steward of charitable gifts, The JIBC Foundation is building meaningful relationships with communities to support Canada's leading public safety educator.
Last updated November 28, 2016