Jim and Vicki Chu receive JIBC Foundation Lifetime Achievement Award
New student award established to recognize Jim and Vicki Chu's outstanding contributions to justice and public safety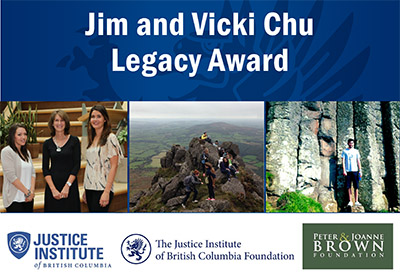 Former Vancouver Police Department Chief Constable Jim Chu and his wife, Vicki, were recognized September 16, 2015 with the Lifetime Achievement Award from The Justice Institute of British Columbia Foundation (The JIBC Foundation) at the 2015 Vancouver Police Foundation's Night Patrol Gala.
"Jim and Vicki's commitment to educational excellence has been far reaching," said Dr. Michel Tarko, President and CEO of JIBC and a board member of The JIBC Foundation. "They have provided exceptional leadership throughout their careers and made outstanding contributions to the justice and public safety community. It's in recognition of their many accomplishments that we present them with the JIBC Foundation Lifetime Achievement Award."
To further recognize and build on their legacy of community service and commitment to education, a new JIBC student award in their name has also been created. Established with the support of the Peter & Joanne Brown Foundation, the Jim and Vicki Chu Legacy Award will give JIBC law enforcement students the opportunity to participate in international learning exchange experiences.
"Jim and Vicki Chu have been inspirational role models to generations of police recruits," said Bernard Magnan, Chair of The JIBC Foundation. "Through the Jim and Vicki Chu Legacy Award, we hope to build on their example of community service for many years to come."
"My wife and I are very appreciative of receiving this award from JIBC, where we were both provided the grounding we needed to start our policing careers," said Jim Chu. "We hope the establishment of the legacy award will serve to help law enforcement students at JIBC as they start their own policing journey."
During his 36-year career in the VPD, seven and a half years as Chief Constable, Jim Chu contributed significantly to the development of the department and to public safety in Canada and abroad.
He was a member of the JIBC Board of Governors from 2004 to 2007, a former president of the Canadian Association of Chiefs of Police (CACP), former chair of the International Association of Chiefs of Police Law Enforcement Information Management Section, former co-chair of the CACP Informatics Committee, and former board member of the Major Cities Chiefs Association.
In 2007, he was recognized by the Governor General with the Order of Merit for Police Forces for service beyond the call of duty, and was the recipient of an honorary doctorate degree from JIBC in 2011.
To contribute to the Jim and Vicki Chu Legacy Award, visit The JIBC Foundation Online Donation Page, or contact the Foundation.
About The Justice Institute of British Columbia Foundation
Since 1993, The Justice Institute of British Columbia Foundation (The JIBC Foundation) has worked on behalf of JIBC to raise funds for scholarships and bursaries, applied research, equipment and other tools that impact student success. The Foundation is the recipient and manager of charitable donations and builds meaningful relationships with communities to support Canada's leading public safety educator.
Last updated October 30, 2015