Justice Institute of BC Foundation to receive gift from the heart
Primary Care Paramedic program students to benefit from couple's gratitude
Beverley and John Carl of Vancouver are making a gift that comes from the heart, in support of the Primary Care Paramedic (PCP) program at the Justice Institute of British Columbia. It is the couple's way of showing their gratitude to the first responders who helped to save Beverley's life almost two years ago.
On March 3, 2012, while working the early morning shift as a Green Coat volunteer at Vancouver International Airport with her husband John, Beverley suffered a massive heart attack. "The quick response and competent actions of the Paramedic Bike Squad, followed just as quickly by the Life Support ambulance crew who transported me to Vancouver General Hospital's Cardiac Cath Lab, certainly saved my life," said Beverley. "I felt completely confident in the abilities of these trained professionals and let them take over."
In January of this year, Beverley underwent surgery to receive an implantable cardioverter-defibrillator to monitor and treat any irregular heartbeats. With the support of John and her health-care team, Beverley is now able to enjoy short walks, visits to the library, meals with family and friends, and take pleasure in the beauty of her patio garden.
Beverley and John wanted a way to give back to the paramedicine community. The couple decided that an annual award, in their name, awarded to a deserving student enrolled in JIBC's PCP program was the right option for them.
The Carls recently visited the JIBC New Westminster campus to learn more about how their gift will make a difference and personally meet with students and faculty of the PCP program. Beverley told the students they had picked an extremely rewarding career and would be helping a lot of people. PCP program student, Spencer Wood, commented, "that learning how to interact with patients is a very important part of the training offered at JIBC."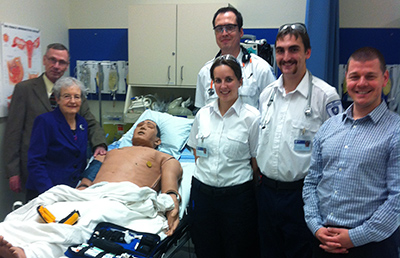 (left to right) John & Beverley Carl; PCP students Spencer Wood, Elen Cheatly, Jesse Partridge; Program Manager, Medical Responder Programs Jodie Marshall
"We are grateful to Beverley and John for their generous gift in support of the Institute," said John Chesman, JIBC Foundation Chair. "Through this annual student award, JIBC can ensure that it continues to attract the best and the brightest students to our Primary Care Paramedicine program."
To find out more about the different ways of making a gift to JIBC, visit www.jibc.ca/foundation.
The JIBC Foundation
Since 1994, The JIBC Foundation has supported the Justice Institute of British Columbia by raising funds for student scholarships and bursaries, applied research opportunities and equipment and other tools for learning. By inspiring giving through various fundraising initiatives, the Foundation ensures that JIBC continues to maintain its worldwide reputation for excellence and innovation as Canada's leading public safety educator.
Last updated October 28, 2014