Legacy of JIBC donor continues to grow
Contribution of respected physician, business leader and philanthropist continues to be felt far and wide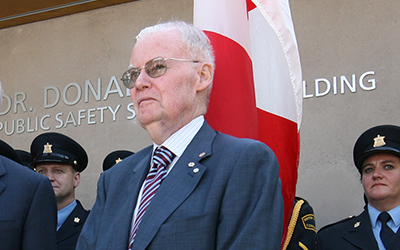 Dr. Donald Rix was a respected physician, business leader and philanthropist dedicated to giving back to the community in many different ways.
While he passed away in 2009, the impact of his contributions to a variety of fields continues to grow.
A recent story in The Vancouver Sun reported that Dr. Rix was "Patient X" whose rare cancer was the first in the world to be genetically sequenced back in 2009. That medical milestone helped doctors find appropriate drugs to treat his cancer. Through this pioneering effort, new approaches to treating cancer have since been developed and the program to sequence cancer cells is expanding.
At Justice Institute of British Columbia (JIBC), his contributions continue to support public safety education, training and applied research.
In 2008, the Rix Family Foundation contributed $1 million to The JIBC Foundation's Standing Strong Campaign. The donation was used to support JIBC students and also contributed to new resources for the JIBC Library, the completion of the Rescue Tower at the Maple Ridge campus, and the new simulation building at the New Westminster campus, which was named the Dr. Donald B. Rix Public Safety Simulation Building in Dr. Rix's honour.
Countless public safety professionals and JIBC students have since benefited from his support, contributing to safe, healthy and prosperous communities in B.C. where we work, live and play.
About The JIBC Foundation
Since 1993, The JIBC Foundation has supported the Justice Institute of British Columbia (JIBC) by raising funds for student scholarships and bursaries, applied research, equipment and other tools for learning. By inspiring giving through various fundraising initiatives, the Foundation ensures that JIBC continues to maintain its worldwide reputation for excellence and innovation as Canada's leading public safety educator.
Last updated November 6, 2014