Life-changing impact of giving to student success celebrated at JIBC
JIBC students pursuing careers in justice and public safety express their appreciation to donors at special event in New Westminster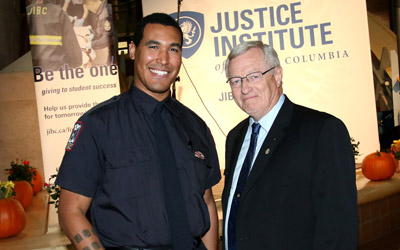 Phoenix Gordon, JIBC firefighting graduate and General Student Bursary recipient, with Jim McGregor, Chair of the JIBC Board of Governors, at the JIBC Donor Appreciation Reception held on October 26, 2016 at the New Westminster campus. (Photos by Richard Chu)
A year ago, Phoenix Gordon was bedridden and could hardly move after being badly injured in a car crash. As he recovered, he reflected on his life and decided to rebuild himself "from the ground up" and do what it took to pursue his goal of a career in the Fire Service.
Within a year, he went from barely being able to lift his own head to successfully running the Candidate Physical Ability Test, one of the requirements to apply for the Fire Fighting Technologies Certificate (FFTC) program.
A student in Class 6 of JIBC's pre-employment firefighter program, he successfully completed the intense live-fire training at the Maple Ridge Campus earlier this year. But he wouldn't have been able to pursue his dream if it wasn't for the assistance of JIBC donors who support JIBC's mission of developing dynamic justice and public safety professionals through its exceptional applied education, training and research. Gordon was a recipient of the JIBC General Student Bursary, which provided the needed funds for him to complete the FFTC program.
"The aid you provide goes beyond the monetary," he said to donors at the JIBC Donor Appreciation Reception held on October 26, 2016 at the New Westminster Campus. "You are helping aspiring students take the steps forward toward our goals and realize our dreams by developing the skills we need in exciting and community oriented fields provided here at the Justice Institute of British Columbia. I personally can't thank you enough as the help that I received was what carried me beyond the dividing line between beginning my career or remaining stuck where I was."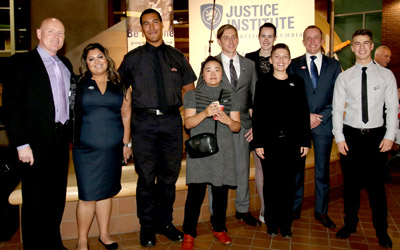 VPD Chief Constable Adam Palmer encourages JIBC students at the Donor Appreciation Event.
Gordon was one of many examples shared at the donor appreciation event that illustrated the powerful impact of JIBC donor support towards student success at Canada's leading public safety educator. Also reinforcing how giving makes a difference in the lives of JIBC students was Wendy Lisogar-Cocchia and Sergio Cocchia Award recipient, Karen Dosanjh, sharing, "The generosity of donors allows students from all walks of life the opportunity to achieve and commit to the amazing programs here at the Justice Institute of British Columbia. Receiving this award will never, ever be forgotten."
Donors have contributed not only to helping students with needed bursaries and awards, but have supported the acquisition of new equipment and the development and application of new educational technologies. Law enforcement, firefighting and paramedic students, for example, have all benefited from the support of donors in the past year.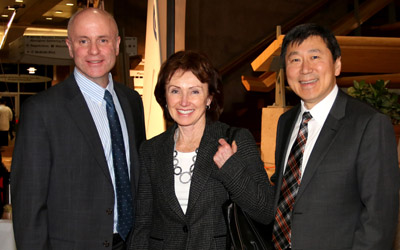 Steve McCartney, Acting Director, Justice & Public Safety Division, with Jim Chu, retired VPD Chief Constable, and his wife, Vicki, at the Donor Appreciation Reception.
This includes the creation of the new Jim & Vicki Chu Legacy Award that supports students in the Law Enforcement Studies Diploma program by providing funding to participate in an international exchange at the Waterford Institute of Technology in Ireland, and new equipment for students in JIBC's Paramedic Academy.
JIBC and The JIBC Foundation would also like to acknowledge the generosity of reception supporters Dana Hospitality and Safeway Royal Square Mall in New Westminster.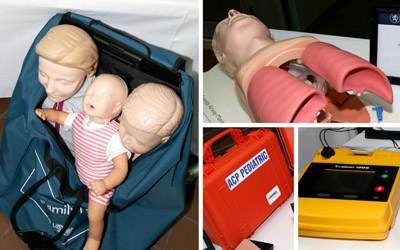 Needed paramedic training equipment provided through the support of community donors including G&F Financial Group, the Rotary Club of New Westminster, the Chilliwack Foundation, and the TELUS Victoria Community Board, on display at the Donor Appreciation Event.
Bernie Magnan, Chair of The Justice Institute of British Columbia Foundation, said to donors at the event, "Through your generosity, The JIBC Foundation raised and disbursed close to $1 million last year in support of justice and public safety education at JIBC. Together, we are changing lives and enhancing justice and public safety in our communities. Thank you for being the one giving to student success."
About The Justice Institute of British Columbia Foundation
For more than 20 years, The Justice Institute of British Columbia Foundation (The JIBC Foundation) has inspired giving for important needs that enhance education, training, student learning and applied research at JIBC. These needs most often include student awards and bursaries, new equipment and technology, and other tools related to student success. As the recipient and steward of charitable gifts, The JIBC Foundation is building meaningful relationships with communities to support Canada's leading public safety educator.
Last updated December 20, 2016