Military firefighter gains perspective at JIBC
JIBC diploma graduate from the Canadian Armed Forces completes another leg of his life-long learning journey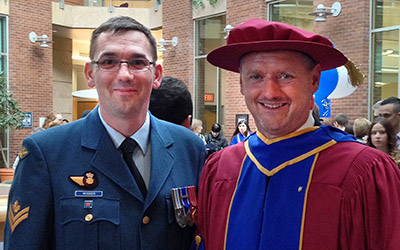 Canadian Armed Forces Master Corporal Charles Wigger with JIBC President Dr. Michel Tarko after the February 2014 Convocation ceremony (Photo by Richard Chu)
It was a significant day for Master Corporal Charles Wigger when he crossed the Convocation stage at the Justice Institute of British Columbia (JIBC) to receive his certificate in February 2014. Completing his diploma from the Fire & Safe Division marked an important personal milestone in his lifelong journey of professional learning.
"It's certainly an accomplishment to finish the diploma while balancing family and work," he said. "I did this for self-betterment. I did it for educating myself. But, by all means, I'll be using the things I learned that makes my job easier or makes the lives of the guys that work with me better."
"JIBC's firefighter programs were recently recognized for meeting the occupational training and learning requirements for firefighting personnel in the Canadian Armed Forces," said JIBC Fire & Safety Division Director Peter Grootendorst. "The determination of Master Corporal Charles Wigger to complete his diploma is a an example of the life-long learning that is required in many public safety professions, and I'm confident that the skills he has gained through his studies at JIBC will support his important and demanding work in the Canadian Armed Forces."
A member of the Canadian Forces since 1991, MCpl Wigger has had a diverse military career. He started as a Medical Assistant at CFB Kingston and CFB Edmonton before serving as an armoured soldier with the Lord Starthcona's Horse (RC) between 1996 and 2003 and deployed on three tours overseas on peacekeeping, peace support and humanitarian operations.
In 2003, he transitioned to become a military firefighter and supported fire services at bases in Edmonton and Comox and also served as a firefighter aboard the HMCS Calgary between 2009 and 2011.
Today, as Assistant Deputy Platoon Chief for Blue Crew at 19 Wing Comox Fire Department at CFB Comox, MCpl Wigger leads a team that provides aircraft rescue and firefighting services for the base and its married quarters. With mutual aid agreements, his team also responds to calls when needed in Comox and Courtney. A supervisor for eight firefighters, he is also the Assistant Training Officer and a Team Leader of CFB Comox's Light Urban Search & Rescue (LUSAR) team.
In June, he will be on a six-month deployment to Canadian Forces Station Alert, the most northerly, permanent inhabited location in the world. He will be one of five firefighters providing structural and airfield fire protection for the station that's located only 817 kilometres from the geographic North Pole.
JIBC diploma next logical step
Firefighting, like many other public safety careers, requires professionals to regularly practice and hone their skills. In addition to this regular training, MCpl Wigger also took JIBC courses to continue expanding his skillset throughout his busy fire service career.
"I've always enjoyed learning and I wanted to find a way to maintain and expand my fire service skills and knowledge after completing my firefighting training at the Canadian Forces Fire Academy," he said. "I obtained all my fire officer seals, which mean a lot in the firefighter world, and I figured the next logical step was the JIBC diploma."
He found the education he received invaluable and thoroughly enjoyed learning from his experienced instructors and discussing issues with fellow students that had diverse professional and cultural backgrounds.
"It was nice to learn new ways of looking at a problem from people in other agencies and other institutions. What I found the most enjoyable about all my courses was learning how other people look at the same problem, all with different perspectives and solutions," he said. "I felt inspired by having the chance to interact with other students, some of whom were deputy fire chiefs or fire chiefs in their own town or district."
He also valued the interdisciplinary nature of JIBC courses. "When I took the senior leaders course there were firefighters, bankers, and students from the Middle East. It was interesting to see how certain management and leadership issues weren't isolated to firefighting or emergency services," he said. "It was all fascinating. The way the courses ran, interaction between students was always encouraged by instructors, regardless of the course."
JIBC's Fire and Safety Division (FSD) is accredited to 42 levels of National Fire Protection Association (NFPA) standards by the International Fire Service Accreditation Congress (IFSAC) and the Pro Board Fire Service Professional Qualifications System (Pro Board). JIBC is also the only post-secondary institution in Canada that has bridged professional training and certification into an academic pathway leading to the Bachelor of Public Safety Administration.
MCpl Wigger plans to continue his education and work towards completing the bachelor's degree, and has recommended other professionals to the programs offered by JIBC's Fire & Safety Division.
"This training gives you a different perspective," he said. "I look at it like a hockey game. If you are one of the players on the ice, you only see what's in front of you. But if you are sitting in the stands, you can see the whole perspective of what's going on. You can see what's going on behind and ahead of the play. Getting another perspective on your situation is always worth it."
About Justice Institute of British Columbia
Justice Institute of British Columbia (JIBC) is Canada's leading public safety educator. Our specialized programs lead to certificates, diplomas, bachelor's degrees and graduate certificates in Policing, Investigations, Emergency Management, Firefighting, Paramedicine, Sheriffs, Corrections, Counselling, Leadership, Mediation, Conflict Resolution, and Driver Training. JIBC also provides customized contract training to domestic and international governments, agencies and organizations. Our approach to education emphasizes applied learning and realistic simulations, delivered by instructors who are experienced practitioners. Close to 30,000 students study at JIBC annually. Their work makes communities safer, and helps people in need, throughout B.C., across Canada and around the world.
Last updated April 4, 2017