National Day of Remembrance and Action on Violence Against Women
Flags at half-mast for the 14 victims of the École Polytechnique massacre
Today, JIBC flags are flying at half-mast, and 14 white roses are on display in the atrium of our New Westminster campus, in memory of the 14 victims from École Polytechnique.
"As professionals whose work is dedicated to building safe, secure and healthy communities, this day has a special poignancy for all the staff, instructors, students and graduates of JIBC," said President Dr. Michel Tarko.
You will never be forgotten . . .
Geneviève Bergeron
Hélène Colgan
Natalie Croteau
Barbara Daigneault
Anne-Marie Edward
Maud Haviernick
Barbara Maria Klueznick
Maryse Laganière
Maryse Leclair
Anne-Marie Lemay
Michelle Richard
Sonia Pelletier
Annie Saint-Arnault
Annie Turcotte
December 6 is the National Day of Remembrance and Action on Violence Against Women in Canada. Established in 1991 by the Parliament of Canada, this day marks the anniversary of the murders in 1989 of 14 young women at l'École Polytechnique de Montréal.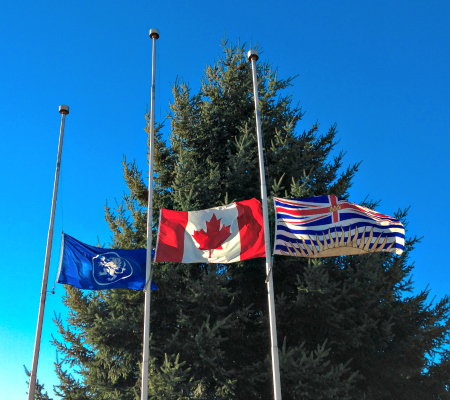 [Photo: Dennis Yip]
It is estimated that almost 60,000 women experience sexual and physical violence each year in B.C.
JIBC is committed to providing first responders, counsellors, social workers and other frontline justice and public safety professionals, with the knowledge and skills needed to help eliminate violence against women and provide support to victims through its educational programs and applied research.
Last updated March 1, 2016