New online resource launched to strengthen disaster resiliency in Aboriginal communities
JIBC and Wilfrid Laurier University develop online Aboriginal Disaster Resilience Planning Guide with support from Aboriginal Affairs and Northern Development Canada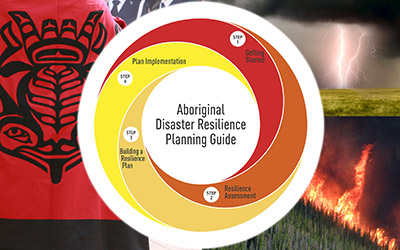 Justice Institute of British Columbia (JIBC) and Wilfrid Laurier University (Laurier) have launched a groundbreaking online resource created to help Aboriginal communities across Canada anticipate and minimize the damage caused by disasters.
First Nations, Métis and Inuit communities in Canada have been affected by hurricanes, wildfires, water contamination and an assortment of other hazards over the years. The Aboriginal Disaster Resilience Planning Guide (ADRP) is a new and open online resource developed with financial support from the federal government to provide a systematic way for Aboriginal communities to become more resilient to disasters and change.
It includes a user-friendly, four-step guide to develop and implement a disaster resilience plan. Among the key elements of the guide are activities around:
setting up a planning team;
conducting a hazard risk analysis;
assessing a community's current state of resilience;
identifying strategies and goals for the resilience plan;
developing an action plan to increase disaster and community resilience;
adopting strategies to help a community survive a disaster.
"Our Government is working to keep Canadians safe and to help its Aboriginal communities prepare for natural disasters and protect lives and property in their communities," said the Honourable Bernard Valcourt, Minister of Aboriginal Affairs and Northern Development. "We are very pleased to support initiatives that help strengthen emergency preparedness in Aboriginal communities."
"Many Aboriginal communities already have a wide range of strengths and characteristics that make them resistant to the effects of a disaster," said Dr. Greg Anderson, Dean of the Office of Applied Research and Graduate Studies at JIBC. "The aim of this new guide is to strengthen their resilience by incorporating effective emergency management processes to help communities become stronger after it recovers from a major incident or disaster."
"The ADRP Guide was created to enhance the resilience of Canada's three Aboriginal peoples from coast to coast to coast. Every aspect of the resource was reviewed and approved by a team of Aboriginal consultants," said Dr. Brenda Murphy, Associate Professor, Society, Culture and Environment, Laurier. "The Guide is action-oriented and allows each community to customize reports with achievable strategies. The co-leads on the project, myself and Dr. Laurie Pearce (JIBC), want to extend our heartfelt thanks to everyone who helped develop such a groundbreaking web-based resource."
About Justice Institute of British Columbia
About Wilfrid Laurier University
Wilfrid Laurier University is a leading Canadian university known for academic excellence and a culture that inspires lives of leadership and purpose. Laurier has a distinct commitment to teaching, research and scholarship, combined with a strong student focus, high levels of student satisfaction and a deep sense of community. Laurier's innovative educational model purposefully integrates the academic learning experience with an experiential learning component. The university has more than 19,000 students throughout its campuses in Waterloo and Brantford and locations in Kitchener and Toronto. The university celebrated its centennial in 2011. www.wlu.ca
About Aboriginal Affairs and Northern Development Canada
Aboriginal Affairs and Northern Development Canada (AANDC) supports Aboriginal people (First Nations, Inuit and Métis) and Northerners in their efforts to:
improve social well-being and economic prosperity;
develop healthier, more sustainable communities; and
participate more fully in Canada's political, social and economic development — to the benefit of all Canadians.
Last updated October 1, 2015