New open textbooks published by JIBC instructors
JIBC students in a number of courses save money with the use of open textbooks, which are available in the BC Open Textbook Collection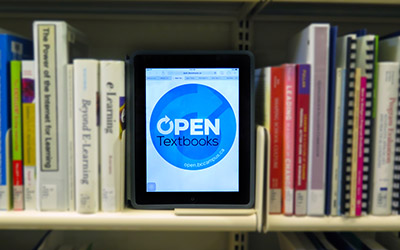 This fall, hundreds of Justice Institute of British Columbia (JIBC) students will have the latest editions of key course textbooks they need for free.
Over the past year, JIBC instructors have published two open textbooks for their students, which are freely available to all B.C. post-secondary students through the BC Open Textbook Collection that is managed by BCcampus.
In August, JIBC instructor Tara Horkoff published the first Canadian edition of Writing for Success, an updated version of the popular open textbook which has been used in JIBC's English-1100 Academic Writing course and in English courses at other B.C. post-secondary institutions. The latest edition of the textbook has been adapted for Canadian students and provides instruction in steps, builds writing, reading, and critical thinking skills, and combines comprehensive grammar review with an introduction to paragraph writing and composition.
Earlier this year, Steve McCartney, JIBC instructor and coordinator of the Law Enforcement Studies Diploma Program, published the first Criminology open textbook in the BC Open Textbook Collection called Ethics in Law Enforcement. An important resource for students looking to become law enforcement professionals, the textbook examines the moral and ethical issues in law enforcement and the criminal justice system in Canada.
Both open textbooks add to the growing collection of open educational resources developed and applied at JIBC. They support the needs of JIBC students and other post-secondary students in B.C. by contributing to the B.C. Open Textbook Project, which is funded by the BC Ministry of Advanced Education. The goal of the project is to provide openly licensed textbooks in the highest-enrolled academic subject areas in B.C.
"Open textbooks are helping our students save hundreds of dollars each year," said Dr. Stuart Ruttan, Associate Dean of the Centre for Academic Planning and Graduate Studies. "For example, since open textbooks were adopted in our English-1100 course, JIBC students are collectively saving more than $38,000 each year. If we include students using open textbooks in our LESD program, and those taking other liberal studies courses such as statistics and psychology, our students are realizing a combined savings of more than $54,000 per year."
"The collaborative effort required to produce a useful open textbook is substantial, so to be able to publish two this year is tremendous, especially for a post-secondary institution of our size," said Dr. Greg Anderson, Dean of the Office of Applied Research and Graduate Studies. "Given our unique mandate, we are proud to contribute to the BC Open Textbook Collection and provide open resources to the broader post-secondary sector."
About Justice Institute of British Columbia
Justice Institute of British Columbia (JIBC) is Canada's leading public safety educator with a mission to develop dynamic justice and public safety professionals through its exceptional applied education, training and research. JIBC offers internationally recognized education that leads to certificates, diplomas, bachelor's degrees and graduate certificates; exceptional continuing education for work and career-related learning and development; and customized contract training to government agencies and private organizations worldwide. Our education provides professionals with the knowledge, skills, and abilities to excel at every stage of their career contributing to safer communities and a more just society.
Last updated November 9, 2015