New personal protective equipment training videos available from JIBC
JIBC develops free PPE training resources based on findings from SIMTEC Project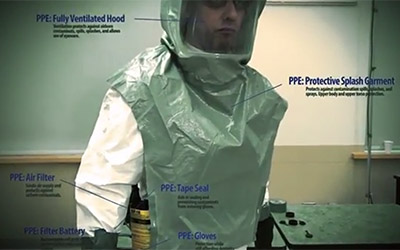 Justice Institute of British Columbia (JIBC) has added new training videos to its growing list of free educational resources available to public safety professionals.
Launched January 6, two videos have been developed by JIBC's Simulation Training and Exercise Collaboratory (SIMTEC) Project to provide education and guidance on the use of Personal Protective Equipment (PPE) for emergency responders, first receivers and other volunteers required to wear this specialized equipment.
"Through our research studying the psychosocial factors involved in the decisions and actions of emergency personnel responding to a disaster, a need was identified to support the training needs associated with the use of PPE," said Dr. Laurie Pearce, JIBC's Applied Research Chair and Co-Principal Investigator of the SIMTEC Project. "These resources have been developed in consultation with many stakeholders to provide an effective introduction in PPE protocols, procedures and best practices."
PPE is designed to provide protection from serious injuries and illnesses resulting from contact with chemical, radiological, physical, electrical, mechanical and other hazards. The training videos provide an overview of when it is necessary to wear PPE, and demonstrate the proper methods for putting on and removing the equipment while providing appropriate strategies for communicating and providing civilian care when wearing the equipment.
In development for six months, the training videos received the support from a number of national, provincial and regional organizations including the Canadian Safety and Security Program, the BC Ambulance Service, Provincial Health Services Authority, the Fraser Health Authority, the RCMP ("E" Division), and the Alberta College of Paramedics.
"We appreciate the support and feedback from all the stakeholders that were involved in the development and creation of these training resources that will benefit public safety professionals in B.C. and beyond," said Dr. Pearce.
About Justice Institute of British Columbia
Justice Institute of British Columbia (JIBC) is Canada's leading public safety educator. Our specialized programs lead to certificates, diplomas, bachelor's degrees and graduate certificates in Law Enforcement, Investigations, Emergency Management, Firefighting, Paramedicine, Sheriffs, Corrections, Counselling, Leadership, Mediation, Conflict Resolution, and Driver Training. JIBC also provides customized contract training to domestic and international governments, agencies and organizations. Our approach to education emphasizes applied learning and realistic simulations, delivered by instructors who are experienced practitioners. Our students' work makes communities safer, and helps people in need, throughout B.C., across Canada and around the world.
Last updated June 12, 2019