New simulator puts paramedic students in the driver's seat
Generous donation gives JIBC paramedic students the opportunity to practice their emergency driving skills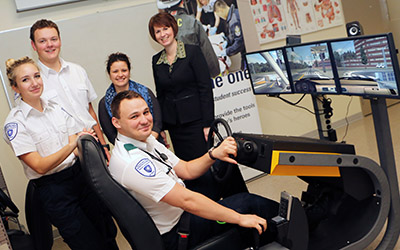 JIBC Primary Care Paramedic students testing the new driving simulator with Anna Filipovic, Acting JIBC Paramedic Academy Regional Training Coordinator, Metro Delivery, and Tracy Campbell, Executive Director of The JIBC Foundation and Associate Director of JIBC's Office of Development.
A generous in-kind donation will give students in the Paramedic Academy at the Justice Institute of British Columbia (JIBC) the opportunity to safely practice important driving skills at the New Westminster Campus.
The new driving simulator generously provided by Alberto Montoto of MONCAR Simulators Ltd. incorporates one of the most advanced simulation systems available to provide a fully immersive, authentic driving experience. Drivers see the full field of view while in the simulator, which has three 20-inch high-definition monitors that provide the same viewing area as a vehicle's windshield. Included in the simulator is a Canadian version of the street ready driving program comprised of various scenarios drivers can experience on the road.
"JIBC Paramedic Academy students have the opportunity to work in a variety of communities and environments, and gaining essential driving skills to handle all sorts of road conditions is an important part of their education," said Kathy Harms, Director of JIBC's Health Sciences Division. "We're so appreciative of this donation, which will enhance the educational experience for our students at the New Westminster Campus."
"I am very proud to support B.C.'s most prominent provider of paramedic training with this donation of the simulator," said Alberto Montoto, CEO of MONCAR Simulators Ltd. "Knowing that it's going to have such a positive impact on the invaluable work of future paramedics is a great reward."
"Support from donors like Alberto is so important to helping JIBC students gain the skills and experience they need to help keep our communities safe," said Bernie Magnan, Chair of The Justice Institute of British Columbia Foundation. "It's not an understatement to say that with his support, emergency responders and paramedics trained at JIBC will be even better prepared to support their communities."
About The Justice Institute of British Columbia Foundation
For more than 20 years, The Justice Institute of British Columbia Foundation (The JIBC Foundation) has inspired giving for important needs that enhance education, training, student learning and applied research at JIBC. These needs most often include student scholarships and bursaries, new equipment and technology, and other tools related to student success. As the recipient and steward of charitable gifts, The JIBC Foundation is building meaningful relationships with communities to support Canada's leading public safety educator.
Last updated March 31, 2016