New student award established to honour paramedic Thomas St. Laurent
Thomas St. Laurent Memorial Award created in memory of exemplary leader, role model and exceptional professional serving the community for 30 years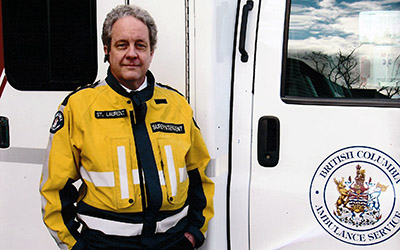 A new memorial award has been established to honour the life and work of paramedic Thomas St. Laurent.
Tom served in the British Columbia Ambulance Service (BCAS) and British Columbia Emergency Health Services for over 30 years, serving in many communities across the province. He rose to the level of Superintendent and Duty Operations Manager before his recent passing.
Tom was a consummate professional, taking great pride in his work and contribution as a paramedic. His reputation of empathy, engagement and support for those around him, particularly those working on the front lines in our communities, is an impression many of his colleagues will certainly remember.
Tom also had commitment to learning, which led him to the Justice Institute of British Columbia (JIBC) for specialized training as a Primary Care Paramedic. His career with the BCAS would begin in 1983, where his primary role was to respond to calls, often by boat or aircraft, in remote areas of the province.
The Thomas St. Laurent Memorial Award recognizes and honours Tom's legacy, and serves as a lasting tribute by all who knew Tom or worked alongside him.
Paul Richards, Director for Patient Care Delivery at BCEHS said, "Tom always put the needs and concerns of paramedics first, and was dedicated to ensuring excellence and professionalism in patient care throughout his career. It is fitting and an excellent legacy for Tom that this award goes to students enhancing their skill and expertise in paramedicine."
This annual $1,000 award will provide tuition support for students in the Diploma in Health Sciences, Primary Care Paramedic program or Advanced Care Paramedic program.
Bernie Magnan, Chair of The Justice Institute of British Columbia Foundation, said, "We are very grateful to receive this special donation that honours the legacy of such a remarkable leader and that also moves our students closer to attaining their dream of a career in paramedicine."
"Paramedics play a vital role in the health and safety of everyone in the community," said Kathy Harms, Director of the Health Sciences Division. "Our students look to leaders, like Thomas, who exemplify character, authenticity, and leadership, qualities that make a difference in our profession and the communities we serve."
In addition to being enrolled as a student in good academic standing in one of the above mentioned programs, applicants must demonstrate a commitment to their fellow students through encouragement and service, following in Tom's footsteps.
Award applications must be received by the March 15, 2016 deadline.
To donate to the Thomas St. Laurent Memorial Award, or for more information about creating a memorial gift, contact The JIBC Foundation.
About The Justice Institute of British Columbia Foundation
Since 1993, The Justice Institute of British Columbia Foundation (The JIBC Foundation) has worked on behalf of JIBC to raise funds for scholarships and bursaries, applied research, equipment and other tools that impact student success. The Foundation is the recipient and steward of charitable donations and builds meaningful relationships with communities to support Canada's leading public safety educator.
Last updated February 25, 2016