New student award helps JIBC students financially breathe a little easier
BC Lung Association establishes new award for first responders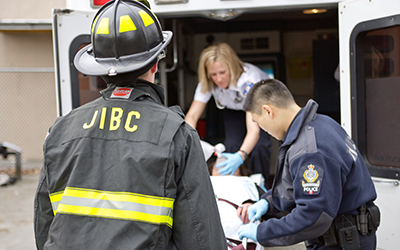 Thanks to the generosity of the BC Lung Association, a new scholarship has been established to help students at the Justice Institute of British Columbia (JIBC) obtain the education they need to contribute to the health and safety of their communities.
The BC Lung Association Healthy Lungs First Responder Scholarship provides tuition support for students in JIBC's law enforcement, firefighting and paramedic programs. Applicants interested in being considered for the award contribute to broadening awareness of the importance of lung health by completing an essay on how first responders can better understand and deal with lung health issues they might encounter in their work.
"First responders play a vital role in helping people in the community, often in some of the worst moments they could face, be it a vehicle crash, a fire, health emergency, or natural disaster," said Colleen Vaughan, Dean of the School of Public Safety. "An important part of the training we provide at JIBC emphasizes the importance of taking necessary steps to ensure their safety when on a call. This new student award will also serve as an additional reminder of the importance of taking care of their own health to best serve their community."
"The BC Lung Association has a longstanding partnership with first responders," notes Scott McDonald, CEO of the BC Lung Association. "As ambassadors and yearly supporters of our Annual Stair Climb for Clean Air event, first responders are some of the most recognizable runners, both competing and volunteering at the event. This scholarship is simply one way we can show our appreciation for their incredible service to our community, in addition to helping raise awareness of the importance of healthy lungs for first responders and the impact lung health will have on their careers."
"We appreciate the support of the BC Lung Association in creating this new scholarship that will certainly help JIBC students succeed in making a difference in their communities," notes Bernie Magnan, Chair of The JIBC Foundation. "Giving to JIBC has a lasting and positive impact on the education of our future justice and public safety leaders. While JIBC donors establish student awards and bursaries for various reasons, very often, the long-term impact of an award for students is immeasurable."
Applications are currently being accepted for the award. The deadline for the first BC Lung Association Health Lungs First Responder Scholarship is June 30, 2016.
For more information about the BC Lung Association Healthy Lungs First Responder Scholarship or creating an award, contact The JIBC Foundation. Be the one – giving to student success.
About The Justice Institute of British Columbia Foundation
For more than 20 years, The Justice Institute of British Columbia Foundation (The JIBC Foundation) has inspired giving for important needs that enhance education, training, student learning and applied research at JIBC. These needs most often include student scholarships and bursaries, new equipment and technology, and other tools related to student success. As the recipient and steward of charitable gifts, The JIBC Foundation is building meaningful relationships with communities to support Canada's leading public safety educator.
Last updated June 9, 2016