New winter driving safety course available for employers and supervisors
First in series of free, online road-safety courses developed by JIBC now available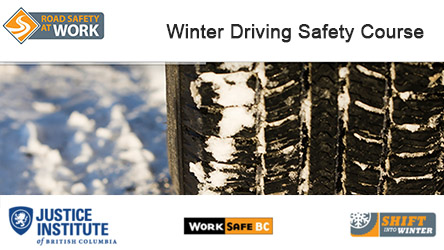 Just in time for winter, anyone who supervises, manages or employs people who drive during the winter for work can now complete a free, online micro-learning module about winter driving safety.
It is the first in a series of online learning modules that will be developed by JIBC's award winning online education team in conjunction with Road Safety At Work, an initiative managed by JIBC and funded by WorkSafeBC, to help employers improve the safety of workers who drive for work or who work at the roadside.
The module has already won two awards for excellence in interactive media production from Horizon Interactive Awards.
Advancing both public and road safety
"Our goal is to help employers reduce the number of work-related crashes, injuries and deaths in BC," says Joanna Wyatt, managing director of Road Safety At Work. "Given that online courses are a cost-effective way to deliver accurate and relevant road safety information to BC employers and JIBC's expertise in online course development, the partnership is a perfect fit."
Over the next three years, JIBC will produce 10 more 30-to-60 minute online micro-learning modules on various occupational road safety topics. Each will cover one of the essentials of a road safety program, explain how to develop and implement key processes, or, like the winter driving safety course, address a specific road safety issue.
"The online micro-learning courses will provide practical and engaging training to introduce learners to the tools and resources available on roadsafetyatwork.ca or shiftintowinter.ca, show them how to apply the information and use the tools, and encourage them to revisit the site over and over afterwards," says Wyatt.
Why winter driving safety first
"We chose to focus on winter driving safety first because winter is the deadliest time of year [1]on BC roads," says Wyatt. "Roads can be icy, and driving snow, pounding rain and dense fog can limit visibility.
Too many drivers aren't prepared, don't recognize the risks or simply don't slow down and adjust their driving to match road conditions."
Next up is Know your responsibilities to employees who drive for work. Watch for it in February 2016.
---
[1] ICBC reports that the number of crashes in which someone is killed or injured from driving too fast for conditions doubles from 114 in October to 222 in December. Similarly, WorkSafeBC counts more lost-time claims for workers injured in motor vehicle crashes from October to February than during the rest of the year.
Last updated April 24, 2018