Passing of a JIBC Champion
The JIBC Foundation remembers a donor who gave from the heart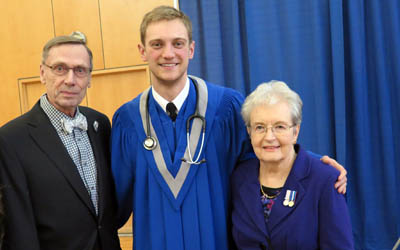 Beverley Carl (right) with her husband, John, and the first recipient of the Beverley and John Carl Award, Matt Brown, after the 2015 Winter Convocation (photo by Richard Chu)
JIBC donor and dear friend, Beverley Carl, passed away in February 2017 at the age of 79. Beverley will be remembered as a remarkable woman who inspired the best in people. She touched the lives of so many in the JIBC family, including Matt Brown, the first student recipient of the Beverley and John Carl Award.
"The Carls have maintained a special place in my heart," said Matt upon news of Beverley's passing. "I still cherish the stethoscope they presented to me on our first meeting. The two of them together were a personal encouragement to me then and now, and I know they will continue to be the same to other students through their standing award."
Four years ago, Beverley and John established an award for JIBC Primary Care Paramedic (PCP) students to show their appreciation for the paramedics who were vital to saving her life in 2012.
A strong supporter of JIBC, she took the time to visit the New Westminster Campus on many occasions, supporting events like convocation and the annual Donor Appreciation Reception.
"Beverley never missed the opportunity to 'Be the One' making a difference," said Tracy Campbell, Executive Director, The Justice Institute of British Columbia Foundation. "Her lifetime commitment to community involvement included volunteering in Scouting for 55 years, and at JIBC, Beverley and John ensured they met students, learned about our programs and attended events. Beverley inspired all those she met and she will be greatly missed."
A highlight each year was the opportunity to meet the recipients of the award established in their name and see the lasting, profound impact the award has on students.
"Matt said to me, which made it all worthwhile, 'By receiving your award, you've validated what I want to do.' We set the criteria for the award, and he met the criteria, but now he also feels he's made the right choice," shared Beverley after meeting Matt in 2015. "That's the kind of thing we are hoping to reinforce. That means so much to me, to see the value of the award is more than just financial."
PCP students interested in applying for the Beverley and John Carl Award have until June 30. For more information, visit the award's webpage.
About The Justice Institute of British Columbia Foundation
For more than 20 years, The Justice Institute of British Columbia Foundation (The JIBC Foundation) has inspired giving for important needs that enhance education, training, student learning and applied research at JIBC. These needs most often include student scholarships and bursaries, new equipment and technology, and other tools related to student success. As the recipient and steward of charitable gifts, The JIBC Foundation is building meaningful relationships with communities to support Canada's leading public safety educator.
Last updated February 20, 2018