Photo exhibit shines light on prevalence of human trafficking
LESD student sees relevance to JIBC students, facilitates exhibition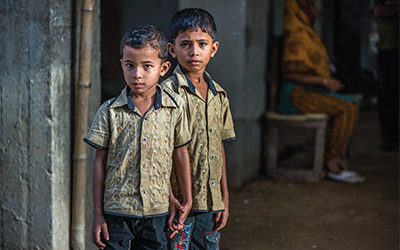 One of photographer Tony Hoare's haunting images reflecting the resilience and strength found in survivors of human trafficking currently on exhibit at the Justice Institute of British Columbia's New Westminster campus.
Tony Hoare will always remember Ruth, the woman he met in Sierra Leone, and the story she shared.
As a young woman, Ruth had been betrayed by a friend and mentor, Edna, and sold to a brothel where she was forced to work until she was eventually rescued. She wanted to warn others that it – being so horribly betrayed by someone close – could happen to them too.
Hoare shot her photo, a portrait of strength and defiance, and upon his return to Canada relayed her story, one of several in "Betrayed: Portraits of Strength," a photo exhibition currently on display at the Justice Institute of British Columbia's (JIBC) New Westminster campus.
It's a far cry from Hoare's previous line of work as an adventure sports photographer, which he describes as being akin to fashion photography, with athletes sporting all the name-brand gear of their sponsors. Instead, he's now focused on "humanitarian photography," working with locally-established NGOs in the developing countries he visits.
"Betrayed" depicts the stories of survivors of human trafficking in Bangladesh, Sierra Leone and Mexico. Some were trapped in situations of forced labour or sexual slavery before being rescued.
But the key is that all of them, as the exhibit title implies, were victimized by people close to them, who abused their trust. That's exactly how human trafficking happens here in Canada too, said Hoare.
"The techniques used to entrap the people in this photo series are similar to the techniques that are used in British Columbia to betray and entrap people here," he said. "The universal theme is betrayal of trust."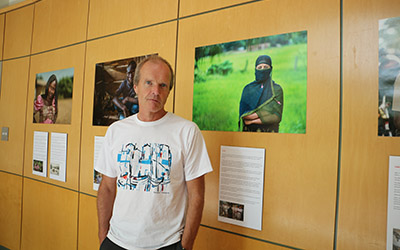 Photographer Tony Hoare documented stories of victims of human trafficking in Bangladesh, Sierra Leone and Mexico. They all involved being betrayed by people close to them, a technique that's used in cases of human trafficking here in Canada too, he says.
British Columbia's Ministry of Public Safety and Solicitor General (formerly known as the Ministry of Justice) includes the Office to Combat Trafficking in Persons. It also saw the value in spreading the word about the issue and provided funding for "Betrayed" to run as a travelling exhibit. The JIBC exhibit, located in a brightly lit corridor by the cafeteria, ends Sept. 20 and is the last venue of the tour.
"Here at JIBC we're dealing with students training to be first responders, both in the medical and enforcement fields," Hoare said, "and for them to get a sense of the situations that they will run into and to get a sense of how this happens, what a fitting end to this series of exhibitions."
A shared desire to raise awareness of that reality is what led Jonathan Beggs, a JIBC Law Enforcement Studies Diploma student, to facilitate bringing the photo exhibit to the JIBC campus.
He had met Hoare through some volunteer work and saw the connection to those working in policing and other public safety fields.
"The fact that these stories are from all over the world, I think there's a misconception that this is happening only overseas but it's happening here in Canada and in fact here in the Lower Mainland," said Beggs.
Hoare noted that the project is only half complete. He is currently seeking additional subjects who have been victims of human trafficking in North America and Europe. He can provide anonymity, even in his photography, and asks that those interested in participating contact him at tony.hoare@gmail.com.
Despite the harrowing and often horrific experiences of his past subjects, Hoare stressed that the portraits and stories also reflect their strength and resiliency.
In the case of Ruth, she wanted her story told, with her full name and her face fully exposed in the photo.
"She just talked about this as part of her life," Hoare said. "Although it was unbearably difficult, she survived it and she's so much stronger because of it. You could just feel the fierce determination in her voice, in her actions. It humbled me. I'm not sure I would even begin to have the strength that she had."
About Justice Institute of British Columbia
Justice Institute of British Columbia (JIBC) is Canada's leading public safety educator with a mission to develop dynamic justice and public safety professionals through its exceptional applied education, training and research. JIBC offers internationally recognized education that leads to certificates, diplomas, bachelor's degrees and graduate certificates; exceptional continuing education for work and career-related learning and development; and customized contract training to government agencies and private organizations worldwide. Our education provides professionals with the knowledge, skills, and abilities to excel at every stage of their career contributing to safer communities and a more just society.
Last updated October 3, 2016