Enbridge applying JIBC's versatile online safety training tool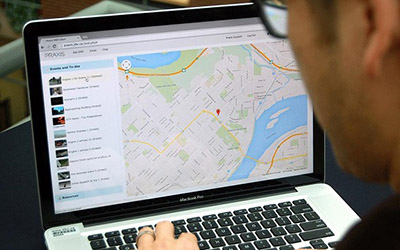 How do you plan for a pandemic? Brace for a security breach? Develop tactics for anti-terrorism?
For crisis management personnel, capable prevention, response, and recovery plans are critical in the face of a full-blown emergency.
But for some emergency response action plans, a so-called "dry run" is simply impractical, dangerous, or prohibitively expensive – sometimes all in the same breath.
That's why the Justice Institute of British Columbia (JIBC) has developed Praxis, a web-based, interactive, and immersive simulation training tool. Praxis simulation software takes participants through problem-based scenarios using a mix of audio, video, and digital technology that replicates the stress and pressure of real-life emergency scenarios – and ultimately enhances critical thinking and decision-making skills.
"As a public post-secondary institute, we educate organizations in the area of public safety – municipal policing, fire, paramedics, corrections, emergency management, social services – and our approach is very hands-on and practical," says Bob Walker, a Praxis simulation specialist with JIBC. "We've used a lot of different simulation techniques, from live actors to burning buildings to driving tracks. Praxis takes things one big step further."
All responses, decisions, and actions are captured and saved to a database, so participants can review their decisions and learn from their missteps in a safe, consequence-free environment. As a web-based learning tool, Praxis also enables remote participation anytime, anywhere.
Originally developed for first responders and emergency management personnel, Praxis has proven so versatile and effective that companies in the social services, geosciences, financial, and community planning sectors have taken advantage. Praxis has guided provincial and federal government departments in Canada through worst-case health and public safety scenarios. Praxis also prepared the security team from the 2010 Vancouver Olympic Winter Games for a range of predicaments, including potential terrorist threats.
Safety is our top priority at Enbridge. We continue to invest heavily in the tools, technologies, and strategies to ensure our pipelines operate safely, reliably, and in an environmentally responsible manner.
We saw enormous potential in Praxis – and last year, we partnered with JIBC as the founding member of an industry consortium supporting the commercialization of Praxis for the energy and mining industries, which generally operate in remote locations and would benefit greatly from online training.
In early February, Michelle Rempel, Canada's Minister of State for Western Economic Diversification, announced $300,000 in federal government funding toward this commercialization project also supported by The JIBC Foundation.
"We believe that Praxis promises to enhance the emergency preparedness and response capacities not just of Enbridge, but of the whole pipeline industry, and in fact every aspect of the energy industry in Canada and beyond," Rich Adams, Enbridge's Senior Vice President of Enterprise Safety, said during the event at New Westminster, B.C.
"We believe that every incident can be prevented . . . but we must also be ready to respond safely and effectively," he added. "We see the realism provided by the Praxis simulation tool as an exciting new opportunity to enhance safety and incident response capacity."
About Justice Institute of British Columbia
Justice Institute of British Columbia (JIBC) is a unique public post-secondary institution focused on public safety and justice education and training. JIBC provides specialized programs that includes work-related training and development through to certificates, diplomas, bachelor's degrees and graduate certificates in Law Enforcement, Investigations, Emergency Management, Firefighting, Paramedicine, Sheriffs, Corrections, Counselling, Leadership, Mediation, Conflict Resolution, and Driver Training. JIBC also provides customized contract training to domestic and international governments, agencies and organizations. Our approach to education emphasizes applied learning and realistic simulations facilitated by instructors who are experienced practitioners.
Last updated May 12, 2015