Prospera Credit Union funds vital training equipment for JIBC paramedic students
Funding from one of the province's largest credit unions provides advanced infant patient simulation equipment for students in JIBC's Health Sciences Division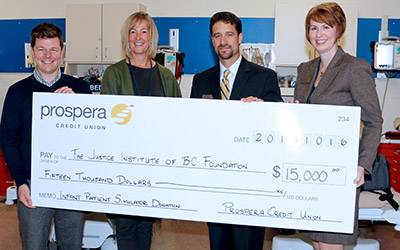 Donation from Prospera Credit Union supports the purchase of advanced birthing training simulators. On hand at the demonstration of the simulators at the New Westminster Campus was Jodie Marshall, JIBC Manager of Medical Responder Programs; Dr. Laureen Styles, JIBC Vice-President, Academic; Shawn Good, President & CEO, Prospera Credit Union; and Tracy Campbell, Executive Director, The JIBC Foundation and Associate Director, JIBC Office of Development.
A $15,000 donation from Prospera Credit Union will provide the Health Sciences Division at the Justice Institute of British Columbia (JIBC) with 15 new, advanced birthing and newborn training simulators.
This generous support from one of B.C.'s largest credit unions will provide more opportunity for JIBC paramedic students and existing paramedics to practice their emergency obstetrical training.
These highly realistic simulators provide an important opportunity for paramedic students to experience a number of normal and complex birthing scenarios they may encounter in the field. With the simulator, students can apply various airway, blood pressure, and CPR procedures and respond to real-life circumstances in a safe learning environment.
The generous support from Prospera also funded the acquisition of new learning resources and training tools to help students acquire essential skills for neonatal resuscitation and childbirth.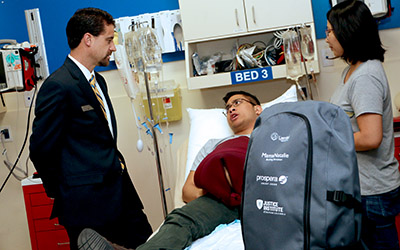 Shawn Good, President & CEO of Prospera Credit Union, speaks with Emergency Medical Responder students Frank Brotonel and Larissa Wakatsuki during a training simulation using the new birthing and newborn training simulators.
"As first responders, paramedics play an important role in ensuring the wellbeing of people in communities all across British Columbia," said Shawn Good, President & CEO of Prospera Credit Union. "Simulation-based training has proven highly effective in providing paramedic students with the practical experience needed to learn to care for patients in realistic settings and we're happy to support JIBC with the purchase of this much-needed technology."
"It may be surprising to know that many babies in B.C. are delivered outside of a hospital with the assistance of a BC Ambulance paramedic, especially in more rural and remote communities in the province," said Kathy Harms, Director of JIBC's Health Sciences Division. "Ensuring paramedics are ready for this situation is why obstetrical training is a core component of JIBC's paramedic programs."
"We greatly appreciate the generous support from Prospera Credit Union," said Bernard Magnan, Chair of The JIBC Foundation. "Through their financial contribution, they are helping to provide vital pieces of infant simulation equipment to support the education and training of paramedic students, and new and existing paramedics in B.C."
On October 16, Shawn Good visited JIBC's New Westminster Campus for a tour and demonstration of the simulators by students in the emergency medical responder program.
"We recognize the importance of highly trained medical personnel to ensure the health and well-being of people across the province is protected and we want to thank the Justice Institute of British Columbia for giving us this opportunity to invest in the well-being of British Columbians," said Good.
About Prospera Credit Union
Building on more than 70 years of history in British Columbia, Prospera Credit Union is proud to be a member owned co-operative with operations from Vancouver to Kelowna. As a full service financial institution that prides itself on building relationships, they serve members through sixteen branches and business centres; online and mobile banking; and a member contact centre. Membership in The Exchange network gives Prospera members fee-free access to more than 3,300 ATMs across Canada. Making life better for everyone is important to Prospera, which has an extensive community investment program devoted to supporting the organizations, events and volunteers that make local communities stronger. To learn more, check out Prospera's YouTube channel and Facebook page or visit the credit union's newsroom online at prospera.ca.
About The JIBC Foundation
Since 1993, The JIBC Foundation has supported the Justice Institute of British Columbia (JIBC) by raising funds for student scholarships and bursaries, applied research, equipment and other tools for learning. By inspiring giving through various fundraising initiatives, the Foundation ensures that JIBC continues to maintain its worldwide reputation for excellence and innovation as Canada's leading public safety educator.
Last updated August 22, 2016