RBC and JIBC build first-responder capacity in rural and Aboriginal communities
RBC supports development and delivery of Fundamentals of Emergency Medical Responder program in rural and Aboriginal B.C. communities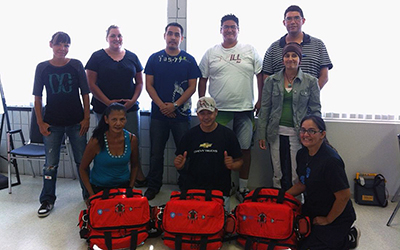 Students in one of the first classes of the Fundamentals of Emergency Medical Responder Program funded by RBC
Support from RBC has helped build much-needed first-responder capacity in rural and Aboriginal communities in B.C.
For a second year in a row, RBC has generously donated $40,000 to the Justice Institute of British Columbia (JIBC), through The JIBC Foundation, to support the development and delivery of the Fundamentals of Emergency Medical Responder (FEMR) program.
"In many rural, remote and access-challenged communities across B.C., there is a demonstrated need for additional first responders who can provide much-needed emergency medical assistance to those who may have extended ambulance response and transport times to hospitals and clinics," said Jodie Marshall, JIBC Health Sciences Division Program Manager. "The Fundamentals of Emergency Medical Responder is an introductory, three-day program that was designed to build first-responder capacity in these communities. The generous support from RBC has made significant contributions to the health and safety of rural and Aboriginal communities by helping JIBC provide a cost-effective, efficient program that increases the standard of available care while also preparing students for further training."
"RBC is committed to helping improve the quality of life for individuals, families and communities," said Jennifer Cabeldu, Manager of Donations, Brand & Communications at RBC. "We believe the health and wellness of local communities is of vital importance. We are proud to support JIBC and the FEMR program. We believe this program makes a meaningful difference and has a positive impact on the well-being of the community.
In the first year of the program, 37 students from communities in the Kamloops, Quatsino, Merritt and Dease Lake areas completed the program. The vast majority of them came from First Nations communities in the Thompson-Nicola, Mount-Waddington and Stikine regions of B.C.
Students gained basic skills and knowledge to prepare them for carrying out critical life-saving duties as a first responder. They learned how to perform cardiopulmonary resuscitation (CPR), standard first aid, and other skills needed to assess and care for patients until the arrival of an ambulance.
Dozens of new students will be trained in four other remote communities throughout B.C. in the coming year.
Program incorporates local and Aboriginal perspectives
Robert Rudkowsky and Larriena Lonsberry were two students who participated in the program at Dease Lake in February.
"The whole experience for me was wonderful," said Robert. "It was a little stressful at times, but given the type of course, that's to be expected. The whole process has been very good, very enjoyable."
"I found the instructors to be really knowledgeable, approachable and easy going," said Larriena. "Their willingness to teach, listen and guide, was very evident. They never made you feel like you were unable to carry out a task. They made us feel like we were a team. They wanted us to learn, wanted us to succeed and strove to make it happen."
For both of them, the course "rekindled the desire to give back to the community and be able to help our neighbors," said Larriena.
"I did emergency water rescue in Owen Sound in Ontario, and have been involved in occupational health and safety, and this course helped me broaden my skills to be able to be more involved," she said.
Incorporating community-oriented and culturally relevant information contributed to the success of the program in each of the communities where it was delivered. The curriculum included information about some of the common medical conditions found in rural and Aboriginal communities. It also included time for discussion about the need to understand and respect the unique cultural norms in any given community.
"There were some things we shared about how to transport a person in or out of their home," said Larriena. "There are certain spiritual aspects that need to be met for elders."
Robert added, "It was good for everyone involved to basically share and relate ideas as to how to better conduct ourselves and be mindful of traditional needs and expectations of the First Nations in a community."
Currently a millwright, Robert had been involved in various public safety positions throughout his career, most notably as a firefighter in various communities in northern B.C.
After taking the FEMR program, both of them continued their first-responder studies and also completed the Emergency Medical Responder course, an intense three-week program that further adds to their knowledge and skillset, enabling them to respond to trauma and medical emergencies.
"There's a definite need here," said Robert. "In a small community such as ours, the biggest challenge is recruitment and availability of training. We are hoping to be facilitators and be assets on the ground here with JIBC. We could never have gotten any of this off the ground without the support for this program."
The JIBC Foundation
Since 1993, The JIBC Foundation has supported the Justice Institute of British Columbia by raising funds for student scholarships and bursaries, applied research, equipment and other tools for learning. By inspiring giving through various fundraising initiatives, the Foundation ensures that JIBC continues to maintain its worldwide reputation for excellence and innovation as Canada's leading public safety educator.
About Justice Institute of British Columbia
Justice Institute of British Columbia (JIBC) is Canada's leading public safety educator. Our specialized programs lead to certificates, diplomas, bachelor's degrees and graduate certificates in Policing, Investigations, Emergency Management, Firefighting, Paramedicine, Sheriffs, Corrections, Counselling, Leadership, Mediation, Conflict Resolution, and Driver Training. JIBC also provides customized contract training to domestic and international governments, agencies and organizations. Our approach to education emphasizes applied learning and realistic simulations, delivered by instructors who are experienced practitioners. Close to 30,000 students study at JIBC annually. Their work makes communities safer, and helps people in need, throughout B.C., across Canada and around the world.
Last updated October 28, 2014