RBC donates $40,000 to JIBC's Fundamentals of Emergency Medicine
New program will enhance healthcare for rural and remote Aboriginal communities
At a reception hosted by Graham MacLachlan, Regional President, RBC, British Columbia, to meet the new President and CEO of JIBC, Dr. Michel Tarko, a surprise announcement of a $40,000 donation was made in support of JIBC's Fundamentals of Emergency Medicine.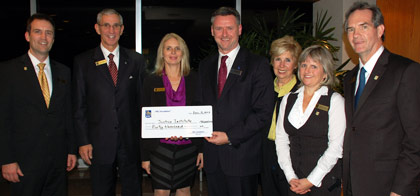 Left to right: Keith Richmond, Tim Manning, Marie Temming, RBC; Michel Tarko, Marg Vandenberg, JIBC; Jennifer Cabeldu, Graham MacLachlan, RBC
"We are very pleased to provide support to underserved rural and remote communities and to help increase the current level of care in Aboriginal communities through this partnership with JIBC," said Tim Manning, Regional Vice-President, RBC Commercial Financial Services. This short duration emergency medicine course will allow for delivery of customized health services to underserved Aboriginal communities, and provide students with a strong foundation in first aid that will enhance the standard of care in their communities, and establish a framework for a more effective transition to advanced educational courses in pre-hospital medicine.
An initial pilot of the new program is planning to be launched with several Aboriginal communities located on the west coast of Vancouver Island.
"We are pleased to partner with RBC and Aboriginal communities accross British Columbia on the launch of this innovative program," said JIBC President and CEO Dr. Michel Tarko. "We believe that this pilot program will enable JIBC to provide a more culturally-responsive approach to training in pre-hospital care resulting in better health outcomes for underserved communities and creating a community-oriented model of education that can be applied to other regions in the province."
Fundamentals of Emergency Medicine is customized to meet the needs of Aboriginal communities, and provides community-oriented, culturally-specific and responsive emergency medical education and training. Aboriginal cultural components will include consideration in the community for traditional health practices and dealing with emergencies in remote locations. This course will provide a foundation and effective transition to more advanced pre-hospital care programs such as First Responder (FR) and Emergency Medical Responder (EMR).
Last updated October 17, 2013