Ready to serve British Columbia
Twenty three JIBC-trained deputy sheriffs graduate
The 23 members of Sheriff Recruit Class 12-01 crossed the JIBC graduation stage March 29, culminating 10 intensive weeks of training and preparation for their role in maintaining security in courthouses across BC.
The new deputy sheriffs will join the more than 500 sheriffs working in 45 courthouses and 44 circuit courts in communities across BC.
"The level of training which we have received here at the Justice Institute by our dedicated cadre of instructors is bar none the best anyone could receive," said deputy sheriff Bryan Hunt in his valedictorian speech. "As we come to the end of our training, we move forward with confidence and strength knowing that no matter where we find ourselves, we are prepared for whatever challenges are before us."
Among the other speakers at the graduation ceremony were Kevin Jardine, Assistant Deputy Minister, Court Services, BC Ministry of Justice; JIBC Board Chair Mary Manning; and JIBC President Jack McGee.
The recruit class adopted the motto "Parabellum", which means, "If you wish for peace, prepare for war." The motto speaks to their level of preparedness to assume responsibilities that include:
Providing prisoner escorts between court, correctional centres and police lock-up facilities.
Courthouse and courtroom security, including the management of courthouse lock-up facilities.
Jury management.
Providing close personal protection services to government, as well as threat assessment to ministries.
The JIBC Sheriff Academy's intensive 10-week training program includes instruction in firearms, force options, driver training, communications, legal studies, report writing, controlled access points, and physical fitness.
The deputy sheriff graduates will now progress to field training under the direction of training officers before beginning their positions.
Bryan Hunt concluded his valedictorian speech by affirming the deputy sheriffs' readiness to serve. "We are ready to serve this province. We are ready to serve our respective communities. We are ready to serve the Ministry of Justice. And we are ready to represent our brothers and sisters in the British Columbia Sheriff Service with honour, integrity, and commitment."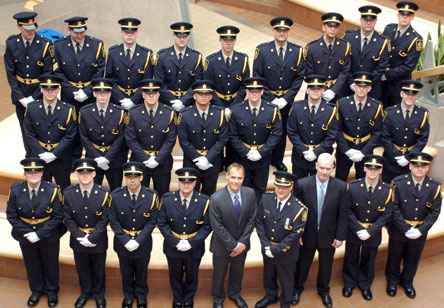 Last updated April 24, 2018