Recent JIBC graduates to train firefighters in Panama
Panamanian firefighters to receive JIBC basic firefighting training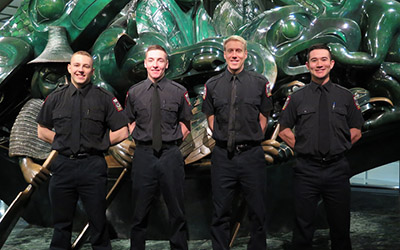 Recent JIBC firefighting graduates Conrad Callagher, Nolan Pick, Ben Gutowski and Steve Oishi depart Vancouver International Airport February 8, 2015 to support firefighter training in Panama
Four recent Justice Institute of British Columbia (JIBC) firefighting graduates have left on a special assignment to support firefighting training in Panama.
JIBC has partnered with Fire Rescue International Training Association (FRITA) to provide B.C. firefighting graduates an opportunity to support emergency services personnel training in developing countries. The graduates left Vancouver February 8, 2015 and will support FRITA instructors and provide basic firefighting training for Panamanian firefighters.
This year's deployment includes JIBC Career Fire Fighter Pre-Employment Certificate Program graduates from Surrey, B.C., Kelowna, B.C., and Shelburne, Ontario.
This overseas deployment is made possible through funding from the Irving K. Barber One World International Scholarship administered by the Victoria Foundation, and with additional financial support from JIBC.
"Our partnership with FRITA and the One World scholarship provides our graduates a rare opportunity to support fellow firefighters working in challenging environments," said Charlene Jordan-Jones, Deputy Director of JIBC's Fire & Safety Division. "This unique, hands-on experience reinforces what they have learned and provides unique insight into how fundamental principles of firefighting can be effectively applied in less-than-optimal circumstances."
Brian Hutchinson, a director with FRITA and The JIBC Foundation, said, "In addition to providing a meaningful experience for JIBC's firefighting graduates, this program is helping to improve operations in Panama and across Latin America. FRITA values the partnership with JIBC to provide training that contributes to improved response capabilities and capacities of fire service agencies in the developing region."
The One World scholarship recipients will be documenting their experience online next month. To follow their activities during their deployment, visit the One World Scholarship & Fire Protection in the Global Community Facebook page.
For more information about this special program and this year's One World scholarship recipients, visit the JIBC blog.
About Justice Institute of British Columbia
Justice Institute of British Columbia (JIBC) is Canada's leading public safety educator. Our specialized programs lead to certificates, diplomas, bachelor's degrees and graduate certificates in Law Enforcement, Investigations, Emergency Management, Firefighting, Paramedicine, Sheriffs, Corrections, Counselling, Leadership, Mediation, Conflict Resolution, and Driver Training. JIBC also provides customized contract training to domestic and international governments, agencies and organizations. Our approach to education emphasizes applied learning and realistic simulations, delivered by instructors who are experienced practitioners. Our students' work makes communities safer, and helps people in need, throughout B.C., across Canada and around the world.
Last updated April 4, 2017