Rotary Club donation enhances life-saving training for JIBC paramedic students and New Westminster community
The Rotary Club of New Westminster helps purchase automated external defibrillator (AED) trainers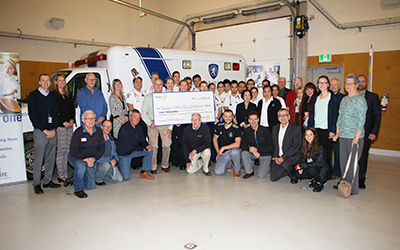 Members of the Rotary Club of New Westminster pose with JIBC Paramedic Academy students who are benefitting from the automated external defibrillator (AED) trainer units that the club funded with a recent $5,000 donation to the JIBC Foundation.
Paramedic students at the Justice Institute of British Columbia (JIBC) will have more opportunities to receive hands-on, life-saving training, thanks to a generous donation from the Rotary Club of New Westminster.
The club contributed $5,000 to The Justice Institute of British Columbia Foundation (The JIBC Foundation) which enabled the purchase of five automated external defibrillator (AED) trainers for students in the JIBC Paramedic Academy. The units simulate AED machines which, in conjunction with the ability to perform CPR, can make a life-saving difference to someone suffering a cardiac arrest.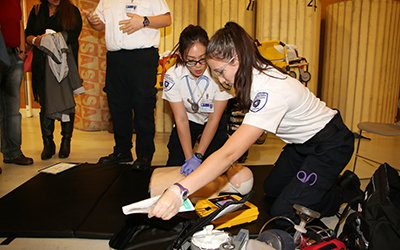 JIBC paramedic students demonstrate CPR using the Rotary-funded AED trainer units.
The AED trainers will be used as part of JIBC's experiential learning model which helps prepare its paramedic students to respond to real-life emergencies out in the field. The funding strengthens the quality of JIBC's paramedicine programs, benefits student learning and helps implement a broader community health approach that enables learners and the general public to practice necessary life-saving skills.
"The opportunities offered at JIBC, through this funding, will ensure first responders have the skills they need to provide the highest possible standard of care for our citizens and communities," notes Kathy Harms, Director of JIBC's Health Sciences Division. "With this gift, students and community participants can take full advantage of an experience that will help them achieve a new level of expertise in public safety and emergency response. With more realistic training everybody benefits."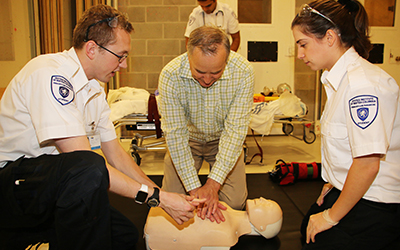 Rotary Club of New Westminster president Dave Vallee receives instruction in CPR during a demonstration at the JIBC Paramedic Academy recently.
"The generous support of service organizations such as the Rotary Club of New Westminster provides the tools for tomorrow's heroes and enables JIBC to train paramedics with an enhanced applied learning environment, particularly with new technology," said JIBC Foundation Board Chair Bernard Magnan. "Through the club's selfless contributions of both service and financial support, countless individuals, families, charitable causes and now JIBC have benefitted immensely from the generosity of Rotarians in New Westminster."
Paramedic students recently performed a demonstration of CPR and the new AED trainers to members of the Rotary Club of New Westminster at JIBC's New Westminster campus.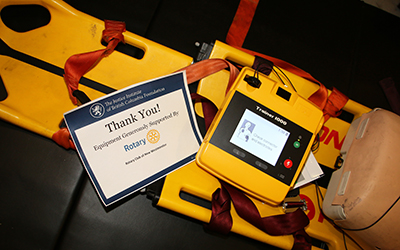 "Our New Westminster Rotary Club was happy to provide the five AEDs to the hard-working paramedic students at the Justice Institute of British Columbia," said club president Dave Vallee. "And we were very impressed during our visit to see the students in action using the equipment and going through their emergency procedures. It was also great to get a demonstration and hands-on experience doing CPR and to learn what to do if we come across an emergency situation. Keep up the great work, JIBC!"
With AEDs increasingly found in workplaces and public facilities, engagement activities, such as the recent orientation with Rotarians, benefits the larger community by linking the public more closely to first responder services and the community's response when and if an emergency arises.
About The Justice Institute of British Columbia Foundation
For more than 20 years, The Justice Institute of British Columbia Foundation (The JIBC Foundation) has inspired giving for important needs that enhance education, training, student learning and applied research at JIBC. These needs most often include student scholarships and bursaries, new equipment and technology, and other tools related to student success. As the recipient and steward of charitable gifts, The JIBC Foundation is building meaningful relationships with communities to support Canada's leading public safety educator.
Last updated November 28, 2016