Spirit of giving of late fire chief continues to benefit firefighting students
Jon Baillie Memorial Award has supported more than 40 students since its establishment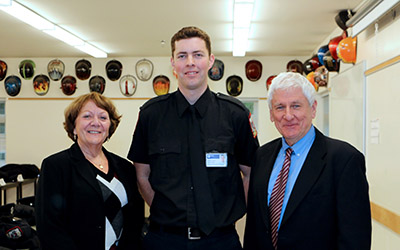 Linda Baillie with Richard Trylinski, recipient of the Jon Baillie Memorial Award for Class 101 of the Career Fire Fighter Pre-Employment Certificate Program, and Dave Mitchell, former JIBC Foundation Director.
Students won't find the Jon Baillie Memorial Award listed among the many Justice Institute of British Columbia (JIBC) scholarships and awards available to students. That's because the Baillie Award is special for JIBC's firefighting students. Potential recipients don't apply; they are nominated by their classmates; selected by the expert training staff in JIBC's Fire & Safety Division; and receive their award at their graduation ceremony.
More than 40 students have received the award since it was established in 2000 by family and friends of Jon Baillie, the late Port Coquitlam Fire Chief remembered for his love of the fire service and commitment to serving the community. In addition to a total of 30 years in the fire service (26 years with the Vancouver Fire Department), Mr. Baillie was a Port Coquitlam councillor, businessman, volunteer, and minor sports coach, instructor and referee.
"He was a true giver, always, to everyone from family and friends to many organizations including the Port Coquitlam Ringette program and the Special Olympics where he was Referee-in-Chief for Canada for Floor Hockey," said Linda Baillie, Mr. Baillie's wife who has presented the award since 2007. "This award is something very near and dear to my heart and to my family, my children and Jon's grandchildren. I hope it impacts the students, when they hear Jon's story; that it stays with them throughout their careers."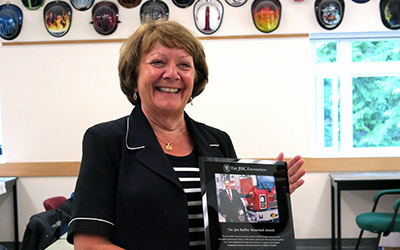 Mrs. Linda Baillie with the plaque of the Jon Baillie Memorial Award displayed at JIBC's Maple Ridge Campus
Recipients are selected for their outstanding academic performance, and their demonstrated high proficiency in the practical skills they have gained from their training, and the leadership, teamwork, strong work ethic and professionalism they have shown throughout JIBC's firefighting pre-employment program.
"I'm very honoured to receive this award," said Richard Trylinski, 26, from Surrey B.C. who graduated in Class 101 of JIBC's Career Fire Fighter Pre-Employment Certificate Program. "To receive an award representing Jon's influence and service, and to be recognized by the instructors and my fellow classmates, is really meaningful as I pursue my firefighting career."
Dave Mitchell, a former Director of The JIBC Foundation said, "I had the great honor to work with Jon during our time with the Vancouver Fire Department. He was, in every sense of the word, a firefighter's firefighter. He knew every aspect of firefighting and he was fearless and confident. I hope each of JIBC's firefighting graduates keep Jon in mind throughout their careers. Be the firefighter he was; contribute to your community; and always remember your family."
"The JIBC Foundation values and treasures our longstanding relationship with the Baillie family," said Foundation Chair Bernard Magnan. "Jon contributed so much to the fire service and the community, and we are proud to recognize our firefighting students with an award that reflects Jon's professionalism and community spirit."
The award is made possible through donations to the Jon Baillie Endowment Fund. Contributions to The JIBC Foundation in memory of Jon Baillie are currently being accepted and can be made online or by contacting the Foundation at 604.528.5750 or foundation@jibc.ca.
About The JIBC Foundation
Since 1993, The JIBC Foundation has supported the Justice Institute of British Columbia (JIBC) by raising funds for student scholarships and bursaries, applied research, equipment and other tools for learning. By inspiring giving through various fundraising initiatives, the Foundation ensures that JIBC continues to maintain its worldwide reputation for excellence and innovation as Canada's leading public safety educator.
Last updated March 5, 2015