Steve Schnitzer awarded a Queen Elizabeth II Diamond Jubilee Medal
JIBC Police Academy Director recognized for contribution to policing nationally
Steve Schnitzer, Director, JIBC Police Academy, was presented with a Queen Elizabeth II Diamond Jubilee Medal on Wednesday, February 20 by Chief Constable Jim Chu of the Vancouver Police Department, in a surprise ceremony at a meeting of the BC Association of Chiefs of Police.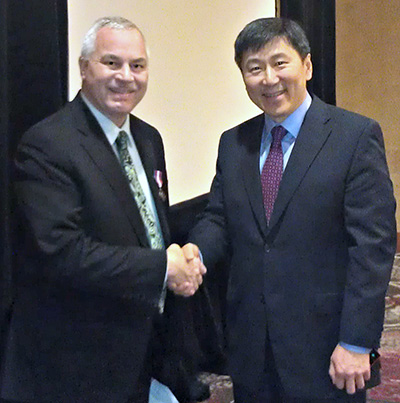 Chief Constable Jim Chu congratulating Steve Schnitzer
Her Majesty Queen Elizabeth II marked the 60th anniversary of her accession to the Throne as Queen of Canada in February 2012. To celebrate this event, the Queen's Diamond Jubilee Medal was created as a visible and tangible way to recognize outstanding Canadians of all ages and from all walks of life who have built and continue to build our society and country through their service, contributions and achievements.
Steve was nominated by the Canadian Association of Chiefs of Police (CACP), and the Queen's Diamond Jubilee Medal recognizes his work on CACP Committees, and for advancing policing on the national stage.
In a congratulatory email to Steve, JIBC Board of Governors Chair Doug Eastwood said, "This is a tremendous honour and the members of the JIBC's Board are extremely pleased and proud that your significant contributions to policing in B.C. and throughout Canada have been recognized in this fashion. It is a wonderful mark of the respect to which you are held by colleagues in your profession and reflects so well on JIBC as well. "
A member of the Vancouver Police Department for 30 years, Steve was promoted to the rank of Superintendent in 2007, with responsibility for Personnel Services. After retiring in September 2010, he took on the role of Program Manager for JIBC's Law Enforcement and Regulatory Training program. He was subsequently appointed Program Director in the Justice and Public Safety Division and led Continuing Professional Education and Academic Programs, before assuming the role of Director, JIBC Police Academy in 2012.
Steve has an MA in Leadership and Training (MALT) from Royal Roads University, a Certificate in Human Resource Management from the BC Institute of Technology, and a Certificate in Criminology from Douglas College.
Last updated October 3, 2014